Commentary
Eerie silence on would-be opening night
Instead of raising their banner, Mavericks are left waiting for word on NBA season
Updated:
November 2, 2011, 2:11 AM ET
By
Jeff Caplan
| ESPNDallas.com
Tyson Chandler's present-day basketball exploits amount to some high-intensity pickup games.
"I've been working out in the Valley," said Chandler, who lives in Southern California during the offseason. "The other day, myself, Kevin Garnett, Paul Pierce, Ricky Rubio, Danny Granger, the Gasol brothers and a couple of young draft picks were playing pickup in L.A.
"I wish I had a few more of my teammates there to take on those Celtics."
The 7-foot-1 Dallas Mavericks center and free-agent-to-be thought he was headed on a four-continent exhibition tour with a group of NBA stars starting Sunday in San Juan, Puerto Rico.
[+] Enlarge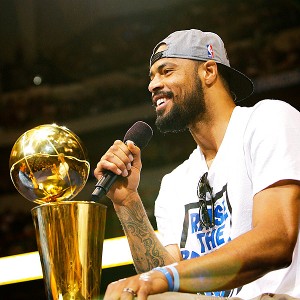 AP Photo/Tony GutierrezFree agent Tyson Chandler averaged 10.1 points and 9.4 rebounds last season with the Mavericks.
But after several stars backed out -- probably upon realizing they had just agreed to 60 hours and 26,000 miles of air travel over 10 days -- the whole thing got shelved.
Sort of like what's happening to the NBA season thanks to the ongoing labor impasse and lockout.
So, here we are, Tuesday, Nov. 1. It was to be one heck of an opening night to the 2011-12 season. The defending league MVP Derrick Rose and the Chicago Bulls were to be in Big D to take on the defending champs, the NBA's marquee matchup to start the season and to continue the riveting storylines set off by one of the most electrifying seasons in NBA history.
Yet, here we are with nothing doing. The lockout, seemingly so close to resolution last week only to blow up again, will leave the American Airlines Center dark on Tuesday night.
We can only assume under normal circumstances that the Mavs would have re-signed Chandler in July, and the man who effectively changed the course of a franchise would get a little teary-eyed as the players received their diamond-encrusted rings and the 2010-11 championship banner, the first in franchise history, was raised to the rafters as the sellout crowed howled in delight.
It won't happen Tuesday night. No one can be sure when it will.
"I was pretty much expecting that this," Chandler said, "could be the outcome."
And so we wait for the NBA owners and the players association to pick up the phone and schedule yet another round of meetings, and hope that the two sides can stop antagonizing each other and finally come to an agreement and salvage a season.
"It's a weird feeling right now," Mavs forward Shawn Marion said.
And so it is across the local sports scene, where the landscape is suddenly cold and barren. The Texas Rangers, so close to finishing off a near-identical run to the Mavs' sensational title run, instead blew Game 6 of the World Series needing just one strike and one out -- not once, but twice -- and now carry the overwhelming burden of the 2006 Mavs.
The Dallas Cowboys are 3-4 as another season in a decade-and-a-half of false expectations slips away.
Of course, the AAC's co-tenant, those hot-starting Dallas Stars -- an ironically anonymous bunch -- are back in business. Good seats, make that great seats, are still available.
That's not the case for the Mavs, already the league's gold standard for consecutive sellouts, a mark approaching 400. If that streak seemed in jeopardy a year ago coming off another disappointing first-round exit, this coming season, assuming there is one, will leave no doubt that the streak is on sturdy ground for another 41, or whatever the number of home dates will be.
More on the Mavericks

News, notes and analysis of the Mavericks from ESPNDallas.com's Tim MacMahon, Jean-Jacques Taylor and our team.
Blog » ESPN Dallas »

During the Mavs' remarkable run to the title and in the weeks after, the club sold as many new season tickets as they typically do during an entire season.
And there wouldn't have been an empty seat in the house Tuesday night, 19,000-plus to witness what no Mavs fan has witnessed before -- the raising of the banner.
Instead, Chandler remains in SoCal playing pickup ball. Dirk Nowitzki could soon be heading back to Germany to resume his conditioning. Ultimate bachelor Marion continues to crisscross the country and newly married Jason Kidd can only sit back and wonder if this final season of his contract could really become the end of his Hall of Fame career.
Mark Cuban, Donnie Nelson and Rick Carlisle can only quietly wait, still under league orders not to talk about the lockout or even look at a player.
Tuesday night's party is on indefinite hold. The AAC will sit dark.
No rings. No banner. No game against the Bulls.
Like Chandler, Marion and everyone else, the wait continues.
Jeff Caplan covers the Mavericks for ESPNDallas.com.