Commentary
Mavericks have taken a step back
Dallas missed out on a true title defense and now the team's future is uncertain
Updated:
May 4, 2012, 10:49 AM ET
By
Jeff Caplan
| ESPNDallas.com
DALLAS -- Not to file the 2011-12 Dallas Mavericks' obituary prematurely, but it was the team's senior-most member and reigning NBA Finals MVP Dirk Nowitzki who succinctly put this strange trip of a season into perspective after Thursday night's Game 3 stunner.
"I don't think we took a step forward as a team," Nowitzki said. "We took a step back."
[+] Enlarge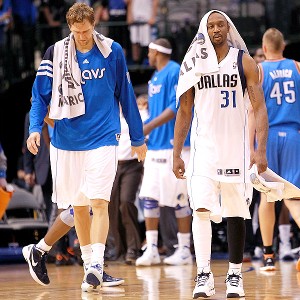 Ronald Martinez/Getty ImagesThe lockout and new collective bargaining agreement changed the game and the Mavericks' plan for this season.
Few defending champions have had to make such a disappointing claim, let alone three games into the postseason. But the Oklahoma City Thunder's 95-79 wire-to-wire trashing of these stripped-down champs in a must-have game -- the Mavs' first playoff game on their home floor since Game 5 of last season's glorious title run against the Miami Heat -- uncovered all the blemishes that no one wanted to acknowledge. At least not until they became so painfully obvious that the sellout crowd donning the royal blue T-shirts with this postseason's slogan "All In" was virtually all in the parking lots with six minutes to go.
The oldest team in the league succumbed to one with four stellar standouts, none of whom has celebrated a 24th birthday yet. Russell Westbrook flummoxed the Mavs' backcourt in all three games. Serge Ibaka was terrific, and James Harden did his thing. Kevin Durant showed up in Game 3 with an assassin's mentality.
The Mavs argued calls from the jump, unraveled early and hardly looked like the calm, cool champs of a year ago.
"Well, we're a different team than a year ago, I think that's over with," said Nowitzki, talking about the team's poor offensive showing in Thursday's loss and for much of the season. "We had to focus on what we have this year and try to make the best of it."
Yet the constant comparisons as the season wore on to last season's champions were obvious and unavoidable. No one had picked that team to win it all either. So some thought this one -- still with battle-tested veterans in Nowitzki, Jason Kidd, Jason Terry and Shawn Marion -- could flip the switch and morph into the determined, strong-willed, nasty disposition of a group that bulldozed through the Lakers, the Thunder and finally the Heat to win it all.
Mavs Playoffs on ESPNDallas.com
Need a reason to get fired up as the Mavericks prepare to defend their NBA championship? How about 10?
10 reasons

Golden memories


Mavericks Blog » ESPN Dallas »
The truth is the Mavs and their fans were robbed by circumstance of the dignity of a true title defense. The lockout served as the first blow, putting the start of the season on ice and jeopardizing it altogether. When a new collective bargaining agreement was finally hammered out over Thanksgiving weekend and the days beyond, the rules of the game had changed, and so did owner Mark Cuban's team-building philosophy.
The plan turned long-term and targeted the summer of 2012. It meant that Tyson Chandler, JJ Barea and DeShawn Stevenson would walk and inexpensive veterans would be sought to fill the void.
As Mavs fans have come to realize, now that Dwight Howard won't reach the market in July, and with Deron Williams' true wishes unknown, nothing is guaranteed. Neither was a repeat of last season's brilliance had Cuban kept the team intact and given it a whirl.
But, it sure would have been a lot more fun to find out. Assuming this series is done in four games or maybe five, all there is to do is wait for July and see where this thing goes next. What is certain is that Nowitzki will be back. That's it. The future of the franchise has never been more uncertain in Cuban's 12 years of ownership.
Game 3 served as the cold water to the face, the reality gut-punch. These Mavs -- just 36-30 in the shortened regular season, a team beset by injury and inconsistency and the Lamar Odom flameout -- never got it together. Vince Carter had his moments, and Delonte West was certainly entertaining, but the Mavs' flow offense -- the best passing bunch in the league a year ago -- sagged all season. Even with the two close calls in OKC, sabotaged by late-game horrors, nothing really changed.
Western Conference Playoffs


Get all the news and commentary on the Thunder-Mavericks matchup on ESPN.com's matchup page.
• Predictions: Simulator | SportsNation
• More: TrueHoop | Schedule | Bracket
• Mavericks Report | ESPN Dallas
"I'm not going to sit up here and make a bunch of excuses," Carlisle said. "We've had to rise above challenges all year long, and one of the things about reaching a level of greatness as a team and as a franchise, invariably you are going to face major challenges. … Right now, this is our biggest challenge, being down 0-3. Look, this is a high-character group of guys. This is as good as it gets in this league. We'll circle the wagons [Friday], we'll get the wheels back on the wagon and we'll get ready for Saturday."
Saturday's Game 4 could be the last of the season. If it is, the Mavs' connection to the Miami Heat will continue in a most bizarre way. Dallas already joined the '07 Heat as the first defending champ to start the playoffs on the road. They are one loss away from becoming the first defending champ since the Heat to bow out in the first round, and they might match Miami in getting swept out.
Marion, who poured everything he had into guarding Durant in the first two games before the young superstar rose up in Game 3 with 31 points -- 21 in the first half -- was asked whether the Mavs could somehow dig down and get the next one and force a Game 5 back in Oklahoma City.
"You got to hope so," Marion said. "If we got any pride left in us."