Commentary
Mavs have hit, missed on draft day
Dirk Nowitzkis and Josh Howards countered by Uwe Blabs and Samaki Walkers
Updated:
June 25, 2012, 1:06 AM ET
By
Jeff Caplan
| ESPNDallas.com
DALLAS -- When it comes to the inexact science of drafting basketball players out of the college game, either back in the day when they stayed four years or today when they might not stay two, every general manager ever on the clock will tell the same story.
[+] Enlarge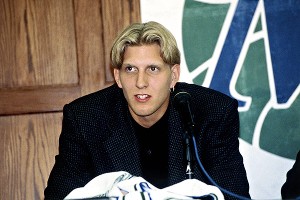 Carolyn Herter/Getty ImagesWhen the Mavs introduced Dirk Nowitzki after acquiring him in a 1998 draft day deal, they couldn't have known they had made a move that would turn around the franchise.
There's the good, the bad and the ugly.
"Every GM worth his salt has had their really good picks where they look smart and they've had the ones they wish they would have had back," Dallas Mavericks president of basketball operations Donnie Nelson said.
Nelson, of course, is no exception. The good, and in this case the great, starts with the trade of the No. 6 pick in 1998, the late Robert "Tractor" Traylor, to Milwaukee for a floppy-haired German teenager that we've learned can hit a one-legged fadeaway jumper but can't sing.
That move will forever be the feather in the cap of Nelson, who was the engineer behind bringing Dirk Nowitzki to Dallas to play for his father Don Nelson, now a Hall of Famer.
The good also includes nabbing Josh Howard at No. 29 in 2003 and the draft-day trade that netted No. 5 pick Devin Harris in 2004. Harris was traded in 2008 to the New Jersey Nets for long-ago Mavs No. 2 overall pick Jason Kidd, a deal that ultimately paid off with a championship.
On to the bad: Would Donnie Nelson like a do-over of the 34th pick in 2007, Nick Fazekas, and instead take the 35th pick, Glen "Big Baby" Davis? Would Nelson like back the 28th pick in the 2006 draft, the Michigan State-groomed Moe Ager, and instead select the 47th pick out of Louisiana Tech, Paul Millsap? Yeah, well, he's got good company on that one.
Best And Worst Of Mavs Draft History

ESPN Dallas' Jeff Caplan ranks his best and worst draft moves in Mavericks history:
BEST
1. 1998 No. 6 Robert "Tractor" Traylor: Traded to Milwaukee Bucks in a deal for No. 9 pick Dirk Nowitzki, the franchise leader in just about every category imaginable.
2. 1994 No. 2 Jason Kidd: Although he didn't last long in Dallas the first time around, the future Hall of Famer's second stint delivered the franchise's first championship.
3. 1981 No. 9 Rolando Blackman: Played 11 seasons for the Mavs, was a four-time All-Star and held the franchise scoring record for 18 years until Nowitzki surpassed it in 2008.
4. 1983 No. 11 Derek Harper: Played 10-plus seasons in Dallas before being traded to the New York, where he helped the Knicks reach the NBA Finals in 1994.
5. 1981 No. 1 Mark Aguirre: Picked ahead of Isiah Thomas, Aguirre was a three-time All-Star with the Mavs, then helped Thomas and the Pistons win back-to-back titles.
WORST
1. 1986 No. 7 Roy Tarpley: Drug addiction ruined a run to superstardom, and he took down a a franchise with him.
2. 1996 No. 9 Samaki Walker: Some of the names available when the Mavs selected him include Kobe Bryant, Peja Stojakovic, Steve Nash and, ahem, Erick Dampier.
3. 1991 No. 6 Doug Smith: Played four of his five seasons in Dallas and topped out with a scoring average of 10.4 points in Year 2.
4. 1989 No. 8 Randy White: The power forward was no Karl Malone in playing five seasons with the Mavs and never averaging better than 9.7 points or 6.4 rebounds.
5. 1982 No. 4 Bill Garnett: Played two seasons with Dallas. The '82 draft went like this -- James Worthy, Terry Cummings, Dominique Wilkins, Bill Garnett.
And then there is the ugly. Remember 19-year-old Leon Smith, the last pick in the first round of the 1999 draft taken by San Antonio and traded to Dallas? If not, Google him.
The jury remains out on the 25th pick in 2009, Rodrigue Beaubois (actually selected by the Oklahoma City Thunder and traded to Dallas for the 24th pick, Byron Mullens). It's also to early too call on the 25th pick in 2010, Dominique Jones, whom the Mavs paid $3 million to the Memphis Grizzlies to get from South Florida and now sports a 2011 title tattoo on his neck.
Nelson has overseen one of the more challenging drafting assignments in the league over the past 12 seasons. Just look at the draft positions: 25, 28, 29, etc. Bad draft position is the proudly accepted sacrifice for constructing consistently good teams that have prioritized filling holes with savvy veteran free agents and in-season trades over developing draft choices.
Because for every Eduardo Najera drafted 38th in 2000, there are 100 guys like Dan Lenghi, the four-year Vanderbilt star the Mavs drafted 31st that summer and then traded to Houston to grab Najera.
"If you're picking high, those are picks that you really can't afford to miss on, your high lottery picks," Nelson said. "When you get into the middle, yes, you want to come away with something. When you're picking at the end of the first, you can take some risks and maybe you pull out a Josh Howard, and maybe it's a Moe Ager."
After a dozen years, the Mavs are back in the middle, which makes Thursday's draft so intriguing. The changing Mavs, with holes to fill at every position and needing to hit on a rotation player, are set to pick at No. 17, their highest selection since 2000 when Dallas took Etan Thomas at No. 12.
Ooh, sorry Donnie, but that one's got to go in the bad column.
Of course, the Mavs have never been legendary drafters, no matter who has been calling the shots. For every Mark Aguirre (No. 1 overall in 1981), Rolando Blackman (No. 9 in 1981), Dale Ellis (No. 9 in 1983), Derek Harper (No. 11 in '83) and Kidd (No. 2 in 1994, although his second stint has already lasted longer than his first), there is a laundry list of botched choices from Uwe Blab (No. 17 in 1985) to Cherokee Parks (No. 12 in 1995) to Doug Smith (No. 6 in 1991) to Samaki Walker (No. 9 in 1996).
Walker played 123 games for the Mavs over three failed seasons. Other choices in the '96 draft: No. 13 Kobe Bryant, No. 14 Peja Stojakovic, No. 15 Steve Nash, No. 17 Jermaine O'Neal and No. 24 Derek Fisher.
After the Mavs made Blab their third first-round pick in the '85 draft -- and their second German-born selection of the night behind Detlef Schrempf (who was taken at No. 8 with Louisiana Tech power forward Karl Malone still on the board) -- Joe Dumars went 18th, A.C. Green was picked 23rd and Terry Porter was 24th.
The year prior, 1984, was a particularly interesting draft for Dallas. After Hakeem Olajuwon, Sam Bowie and Michael Jordan led things off, the Mavs stepped up at No. 4 and took Sam Perkins, a solid pro who played 17 seasons, the first six with the Mavs.
But with the No. 5 pick, the Philadelphia 76ers took Charles Barkley. That's not all. Dallas also had the No. 15 pick and selected Terence Stansbury out of Temple. Who was the 16th pick? John Stockton.
More on the Mavericks

News, notes and analysis of the Mavericks from ESPNDallas.com's Tim MacMahon, Jean-Jacques Taylor and our team.
Blog » ESPN Dallas »

Of course, back then Dallas was already stocked with Harper, Blackman, Aguirre and Brad Davis, so a 6-foot-1 point guard out of Gonzaga was not of immediate concern.
However, picking Stansbury, a 6-foot-5 guard, was something of a head-scratcher. A few months later, before he ever played a game for the Mavs, they traded him, along with 1982 No. 4 overall pick Bill Garnett, to Indiana for a first-round pick six years later in 1990.
By the time the '90 draft finally rolled around, the Mavs had one pick: No. 49.
They selected Phil Henderson out of Duke.
Like Barkley, Malone and Stockton, Henderson never played a game for the Dallas Mavericks.