Commentary
Mavs face crapshoot in second round
Finding an impact player later in the NBA draft is the exception, not the rule
Updated:
June 26, 2012, 11:52 AM ET
By
Jeff Caplan
| ESPNDallas.com
DALLAS -- An NFL second-round draft pick can, in many cases, be expected to start right away. In the NHL and Major League Baseball, second-rounders are whisked off to the minors with a trajectory for an accelerated arrival with the big-league club.
But in the NBA?
[+] Enlarge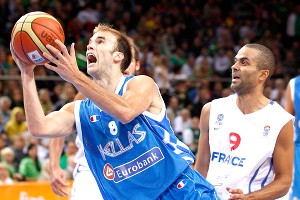 AP Photo/Mindaugas KulbisNick Calathes, a second-round pick in 2009, will attempt the uphill climb of making the Mavs' roster.
"Second-rounders," said Dallas Mavericks president of basketball operations Donnie Nelson, "it's a crapshoot."
As global as the game is today, with players in the NBA representing six of the seven continents, how can there not be more than 30 players each June immediately qualified to join a team's rotation, let alone make a 15-man roster?
In the NBA, a second-rounder is often shipped to a team in an overseas league to "season," with no real expectation that he'll ever make it back to play for the team that drafted him.
Nick Calathes, a guard out of Florida, is hoping to become an exception after playing the last three seasons in Greece. He was drafted 45th overall in 2009 by the Minnesota Timberwolves and then traded to Dallas.
Calathes, who is Greek, left Florida after two seasons and signed with Panathinaikos before the NBA draft. He just got a head start. Now he wants a shot to make the Mavs roster. He's expected to join the club's summer league team next month in Las Vegas looking to impress his way to a training camp invite and a make-good contract.
Second Round Draft Hits

ESPN Dallas' Jeff Caplan looks at some of the best second-round picks in the NBA and by the Mavs:
STELLAR 2ND-ROUNDERS
1. Manu Ginobili: Taken with the 57th pick in 1999 out of Argentina, he burst onto the scene three years later and helped the Spurs win the first of three titles in five years.
2. Maurice Cheeks: The 36th pick in 1978 by the 76ers out of West Texas A&M at a time the NBA had just 22 teams. He went on to make three All-Star teams and won the '83 title with Dr. J.
3. Dennis Johnson: Selected 29th by Seattle in 1976, Johnson played 14 seasons, was a four-time All-Star and won three titles, including two with Boston.
4. Michael Redd: The 43rd pick in 2000 out of Ohio State was a deadly shooter and averaged more than 21 points in six consecutive seasons. Knee injuries derailed his career.
5. Dennis Rodman: Not so nuts when he came out of Southeastern Oklahoma State as the 27th pick by the Pistons, he is now a Hall of Famer and five-time champion.
MAVS' BEST 2ND-ROUND PICKS
1. Greg Buckner: Taken 53rd in 1998, he carved out 10 seasons as a role player. Returned to Mavs later and was used in a deal to acquire Shawn Marion.
2. Jay Vincent: Drafted 24th in 1981, played five solid seasons in Dallas, averaging in double-figures each year. Traded to Washington in '86 for a '90 first-round pick.
3. Mark West: Taken 30th in 1983, he played just 34 games for Dallas as a rookie, was waived, then eventually put together 16 more seasons, including seven-plus with Phoenix.
Notables: Sean Rooks (No. 30, 1992), Lucious Harris (No. 28, 1993), Mark Price (No. 25, 1986, traded on draft day to Cleveland), Elston Turner (No. 43, 1981).
It goes to show how amazingly talented NBA players are and how limited and fleeting opportunity is. Even as more doors have opened over the decades with league expansion from 23 teams in the 1980s to 27 in the '90s to today's 30 and rosters expanded from 12 players to 15, that's still only 450 roster spots, and among those, there are, say, about 270 that are actually rotation players.
It's stunning to recall that before 1985, in what were almost exclusively American drafts, the picks kept rambling on until virtually there were no more prospects available. From 1974 to 1984, the draft labored for 10 rounds, and before that as many as 21.
After '85, the draft quickly got whittled down to seven rounds and then three and finally, and thankfully, to two in 1989.
"The reason is, realistically, if you're not going to get picked in the first or second round, you really need to be able to negotiate with all 30 teams," Nelson said. "In fairness to those players, people would pick guys in the eighth, ninth, 10th round and just hold their rights forever for no reason. I think the fact that if you're in the top 60 you get assigned to a team, and if you're not in the top 60 you're actually in a really good position because you can negotiate as a free agent with all 30 teams."
It worked for J.J. Barea when he went undrafted in 2006 and signed as a free agent with the Mavs.
"At that point, their agent looks at all 30 rosters and says, 'Who needs a backup point guard?' " Nelson said. "Otherwise, if some team would have drafted those guys in whatever, the fourth or fifth round and says, 'Listen, you need to go overseas and work on your game,' those guys might still be over there."
So you should have a pretty good idea what's in store for the Mavs at No. 55 in the second round of Thursday's draft. You will likely have never heard of him or can't pronounce his name, or both. In any case, you can probably not expect to see the player until he's properly "seasoned" overseas, and maybe not even then.
As a matter of fact, ESPN.com Insider Chad Ford projects Dallas at No. 55 to select Georgia -- as in Republic of Georgia -- small forward Tornike Shengelia.
Not all second-rounders are doomed to disappear into overseas obscurity. Manu Ginobili will forever be a beacon as the San Antonio Spurs' 57th pick in 1999. Three years later he joined the Spurs. Today he is a two-time All-Star (2005 and '11) and a three-time champion.
Since the draft went to two rounds, only 11 second-rounders have gone on to become All-Stars: Ginobili, Jeff Hornacek, Dennis Rodman, Cedric Ceballos, Nick Van Exel, Antonio Davis, Michael Redd, Gilbert Arenas, Carlos Boozer, Rashard Lewis and Marc Gasol.
And while the Mavs have yet to strike a future All-Star in the second round, they've picked some good ones over the years, although none of note in quite some time. Greg Buckner, at No. 53 in 1998, stands out as the greatest long shot. Another is Eduardo Najera, the 38th pick originally by Houston and then traded to Dallas during the 2000 draft. Others include Jay Vincent (No. 24, 1981), Elston Turner (No. 43, 1981), Lucious Harris (28th, 1993), Sean Rooks (30th, 1992), Mark West (30th, 1983) and Mark Price (25th, 1986).
More on the Mavericks

News, notes and analysis of the Mavericks from ESPNDallas.com's Tim MacMahon, Jean-Jacques Taylor and our team.
Blog » ESPN Dallas »

Interestingly, of those last six, five were picked at No. 30 or higher, or what would be a first-rounder in today's NBA.
Recently, the Mavs have not had much luck with picks 30 through 60. The 2007 pick of Nick Fazekas at No. 34 was a failure from the moment he showed up at summer league. Renaldas Seibutis (50th, 2007) hasn't exactly panned out, and Shan Foster (51st, 2008) isn't walking through that door, either.
Wang Zhizhi (36th, 1999) was a wash, and Ahmad Nivens (56th, 2009) never played a tick in the league. The list is too long for this space.
(On a side note, did you know the only Dirk actually drafted by Dallas was in 1983 with the 33rd pick? Dirk Minniefield was then promptly traded to New Jersey.)
So if you make it through the first 30 picks Thursday night and need to hit the hay, consider that you've probably seen enough.
As for No. 55, we'll fill you in on that crapshoot in the morning.