Sources: N.Y. to let Jeremy Lin walk
Updated:
July 16, 2012, 4:12 PM ET
ESPN.com news services
With point guard Raymond Felton on his way to New York via a sign-and-trade deal with the Portland Trail Blazers, evidence is mounting that the Knicks will not match the Houston Rockets' offer sheet to Jeremy Lin.
The Knicks are still deliberating whether they can pay Lin more than $25 million over three years, but two sources within the Knicks organization tell ESPN's Stephen A. Smith that the Knicks will not match the offer.
A team source tells ESPNNewYork.com's Ian Begley that the third year of the Rockets' offer -- worth $14.8 million -- makes it unlikely the Knicks would match. If the Knicks were to match the offer, they would also be subject to a luxury tax in the third year, bringing their total out-of-pocket cost for Lin to about $30 million in 2014-2015.
The Rockets' offer to Lin would pay him $5 million in the first year, $5.225 million in the second and $14.8 million in the third, according to sources.
A source close to the process told ESPN.com's Marc Stein the Knicks received the offer sheet Saturday night, meaning they have until 11:59 p.m. ET Tuesday to match it or let Lin go to the Rockets.
When asked on Sunday if he thought Lin would be back with the Knicks, Carmelo Anthony was unsure but took a swipe at the Rockets' contract offer to the point guard.
"It's not up to me. It's up to the organization to say that they want to match that ridiculous contract," he said.
Anthony also said, "I'd love to see him back, but I think he has to do what's best for him right now."
Jared Jeffries, headed to Portland in the sign-and-trade deal that will bring Felton to the Knicks, is one who shares the sentiment that Lin won't be back with the Knicks.
"I never thought they would let him go," he told ESPNNewYork.com via text message on Sunday.
A source close to Lin told ESPNNewYork.com that the Knicks' trade for Felton caught Lin off guard.
"He was very surprised," the source said. "He felt the whole time that the Knicks would just match the offer."
Initial reports had the Rockets offering Lin a four-year deal for around $28 million. That deal included salaries of more than $9 million in each of the last two years, which would be a big hit on the Knicks' salary cap.
Still, the organization seemed intent on matching.
"They will match any offer on Lin up to $1 billion," a source told ESPN.com's Stein last week.
Knicks coach Mike Woodson said Wednesday that Lin would not only be back but would enter next season as the Knicks' starting point guard.
It's not clear, however, if the new deal has changed that thinking since the third year of the current deal carries an even bigger cap hit.
If the Knicks re-sign Lin, they'll have $75 million tied up in four players -- Lin, Anthony, Amare Stoudemire, and Tyson Chandler -- in 2014-15.
Lin, a restricted free agent, made $788,000 last season. He averaged 14.6 points, 6.2 assists and 3.1 rebounds in 35 games with 25 starts before his season was cut short because of surgery to repair torn cartilage in his knee.
But in the 35 games he was healthy, Lin went from an end-of-the-bench afterthought to an international phenomenon. The undrafted guard out of Harvard, who was cut twice in the preseason (once by the Rockets) and played in the D-League, set the league on fire in February, leading the Knicks to seven consecutive wins. He scored at least 20 points in nine of 10 games during that stretch.
Felton, meanwhile, will return to New York, where he played 54 games during the 2010-11 season before being traded to the Denver Nuggets as part of the Anthony blockbuster. Felton played well in half a season in New York, averaging 17.1 points before the Knicks sent him to Denver.
He struggled this season with the Trail Blazers, scoring 11.4 points per game on 40.7 percent shooting and briefly losing his starting job.
Felton's agent, Tony Dutt, told ESPN The Magazine's Chris Broussard that returning to New York has been Felton's first choice all along.
2012 NBA Offseason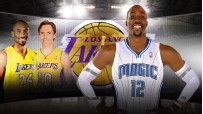 Follow the NBA on ESPN:
Twitter / Facebook / Google+
LATEST CONTENT
ANALYSIS
REGULAR FEATURES