Sources: Dwight Howard to Lakers
Updated:
August 10, 2012, 6:17 PM ET
ESPN.com news services
A four-team trade that would send Dwight Howard to the Los Angeles Lakers is complete, multiple sources told ESPN on Thursday night.
More on ESPN.com

Dwight Howard said all the right things on Friday ... except for the only word that matters in L.A., writes J.A. Adande. Story
---

By adding Dwight Howard to a roster that already welcomed Steve Nash earlier this summer, the Lakers are the team to beat again, writes Arash Markazi. Story
---

That's it? The deal involving Dwight Howard is great for the other three teams involved, but the Magic aren't getting enough in return, writes John Hollinger. Story

---
While the Lakers have a surplus of franchise players, this trade allowed the 76ers to finally acquire one of their own, writes Kate Fagan. Story
---
• Land O'Lakers: Another HR for L.A.
• Land O'Lakers: Farewell, Andrew
• TrueHoop: Who gains most from deal? | Impact on lineups
• ESPN Dallas: Mavs' D12 hopes die
• SportsNation: Did Magic get enough?
• Mike & Mike: Stein

Wilbon

Broussard

Bucher

Barry

Magic

Smith

A source with direct knowledge of the talks told ESPN.com's Marc Stein the Lakers will receive Howard, the Denver Nuggets will acquire Andre Iguodala, the 76ers will receive Andrew Bynum and Jason Richardson, and the Magic will get Arron Afflalo, Al Harrington, Nikola Vucevic and one protected future first-round pick from each of the three teams.
The Lakers also will acquire Earl Clark and Chris Duhon, a source told ESPN The Magazine's Chris Broussard. Draft picks the Magic will receive are the Nuggets' (2014), 76ers' (2015) and Lakers' (2017).
In addition, the Magic will be getting other pieces, including 76ers first-round draft pick Moe Harkless, a source told Stein.
Sources close to the process told Stein and ESPNLosAngeles.com's Ramona Shelburne that a trade call with the league office has been scheduled for Friday to secure the necessary NBA approval to make the deal official.
If the deal goes through, Howard will have to wait to make his debut with the Lakers since he is expected to miss the start of the regular season as he continues to recover from back surgery, according to sources.
Howard would face his former team for the first time in Los Angeles on Dec. 2. His return to Orlando would come March 12.
Lakers forward Pau Gasol had been in and out of talks, sources told Shelburne, before ultimately being excluded.
One source briefed on Howard's plans told Stein the All-Star center will indeed stand firm on his intent to play out the 2012-13 season without extending his contract so he can become a free agent on July 1, 2013. Going that route will enable Howard to decide how comfortable he is in Los Angeles before deciding whether to re-sign with the Lakers or join the Dallas Mavericks, who will have the requisite salary-cap space to sign Howard and remain one of his preferred destinations from his original list of three teams (Brooklyn Nets, Lakers and Mavericks).
"If Los Angeles doesn't work out for Dwight, Dallas will be there waiting for him," the source told Stein.
One source close to Kobe Bryant, meanwhile, told Stein the Lakers' star was ecstatic Thursday night upon hearing that Los Angeles was able to complete such a significant transaction without surrendering Gasol. Bryant is with Team USA at the London Olympics.
"Well, it looks like Superman has found a home," Bryant posted on his Facebook page. "I wish nothing but the best for Big Bynum. I hope he follows what was a great season last year with an even better one next year. I know LA is excited about the deal and rightfully so. The Lakers landed a piece that will hopefully carry the franchise long after I'm gone. I have spoken to Dwight Howard already and we are locked and loaded to bring back the title."
Dwight Howard to Lakers

A four-team trade that sent Dwight Howard to the Los Angeles Lakers was finalized Friday. A look at what each team gets in the deal.
Sources told Broussard that Philadelphia has not spoken to Bynum or his representatives, and has no assurances he will sign a long-term extension with the team.
"The Sixers are willing to take a shot (without Bynum's commitment)," one source said.
Although Bynum signing an extension with the 76ers is not out of the question, according to a source, his stance all summer has been he will sign an extension with only the Lakers.
Bynum, who grew up about an hour away from Philadelphia in Plainsboro, N.J., could sign a three-year, $60 million extension this season or wait to become a free agent after the season and be eligible for a five-year, $102 million deal.
Near the end of July, Howard met with Magic general manager Rob Hennigan and reiterated his desire to be traded, saying that if he wasn't, he would leave the team as a free agent after next season.
The Lakers' position on Howard had remained relatively unchanged for the past few months, league sources familiar with the situation told ESPNLosAngeles.com. The Lakers always had been willing to trade for Howard without assurances he'd re-sign with them after the season, believing that once Howard experienced a championship culture, he would want to stay for the long haul.
Information from ESPN The Magazine's Chris Broussard and ESPNLosAngeles.com's Dave McMenamin and ESPNLos Angeles.com's Ramona Shelburne was used in this report.
Dwight Howard Trade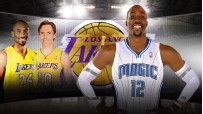 Follow the NBA on ESPN:
Twitter / Facebook / Google+
LATEST CONTENT