Commentary
Thunder's rise justifies Mavs' plan
With OKC smelling a dynasty, Dallas' front office took risk to keep reward in sight
Updated:
January 18, 2013, 4:02 PM ET
By
Tim MacMahon
| ESPNDallas.com
DALLAS -- The reason the Dallas Mavericks' front office made the right decision to take a huge risk in December 2011 will be on display Friday night at the American Airlines Center.
[+] Enlarge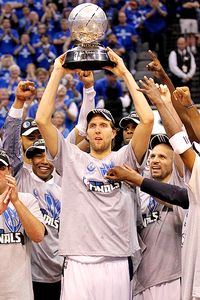 Matthew Emmons/US PresswireDirk Nowitzki and a veteran Mavs team peaked at the right time in 2011 and knocked off a Thunder team not yet in its prime.
Here come the
Oklahoma City Thunder
, a great young team that just keeps getting better.
According to hindsight, the Mavs would have been much better off keeping Tyson Chandler and the other key contributors from the 2010-11 title team they allowed to leave. That's hard to debate with the 17-23 Mavs in serious jeopardy of missing the playoffs for the first time in a dozen years.
However, the potential reward was worth the risk. That's partially because status quo wasn't going to prevent the Mavs' neighbors from across the Red River from roaring by them.
Plain and simple, the Mavs needed to get much better to have a chance to compete with the Thunder for the foreseeable future. Yes, even though Dallas dismissed OKC in a five-game 2011 West finals.
That was a case of a veteran team peaking at just the right time and a baby-faced bunch learning some hard playoff lessons. The lightning-in-a-bottle Mavs got to pick on their little brothers one last time.
The Mavs' best players from that team get further from their prime each year. The Thunder's best players, the freakishly talented 24-year-old tandem of Kevin Durant and Russell Westbrook, just keep getting closer to their prime.
Coop & Nate
Coop and Nate discuss the big game between the Mavericks and Thunder on Friday night at the AAC.
"There's no fans bigger of Tyson Chandler than the guys in that locker room and this management staff," Mavs president of basketball operations Donnie Nelson said the day after the Thunder swept the Mavs in last season's first round. "We understand what he brings to the table.
"But we also would not have won that series had he been here. We might have won more games. We might have put ourselves in better position. But there's no question that they're a better team."
The Thunder just keep growing up, even after dealing their third young prodigy, James Harden, just days before this season opened. After losing to the Heat in last year's Finals, OKC has the NBA's best record at 31-8.
Nelson's comments might not have gone over well with members of the Mavs' title team, but it's the cold, hard truth. And the same goes for the Mavs' chances of beating the Miami Heat again.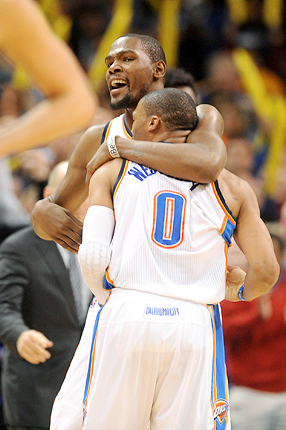 Mark D. Smith/USA TODAY SportsKevin Durant and Russell Westbrook -- both just 24 -- are on a Thunder team with the NBA's best record this season at 31-8.
The Mavs caught two potential dynasties at the perfect moment while finishing off the franchise's only title run. No shame in that. The championship banner will hang in the AAC rafters forever.
But Mark Cuban and Nelson didn't break up a dynasty in Dallas. They tried -- and failed -- to create one.
"You always have to get better in this league," Cuban said this week. "You can never sit still. It's hard to win more than one. The Lakers did it, but that's it in a long time, so you have to always get better.
"Different than Donnie, I didn't look at one team and say, 'Oh, we've got to get better to beat them,' particularly after we just beat them four out of five. So I didn't look at it that way. I just tried to look at the history of how teams have been built, what's been successful, what's worked and what hasn't worked and try to learn from that so we don't repeat the same mistakes others have made."
There has never been a lone-star dynasty in the NBA. Not one. It's a remarkable feat that the Mavs managed to win one title with Dirk Nowitzki as their only dominant player.
The Mavs' plan, as much as Cuban tries to crawfish after they failed to execute it, was to acquire at least one legitimate superstar in his prime. Perhaps two.
The Dallas decision-makers had good reason to like their odds when they let Chandler and the other championship pieces walk. At the time, Chris Paul, Dwight Howard and Deron Williams were expected to be available in the free-agency market. The Mavs dreamed of pairing one of the point guards -- preferably Paul -- with Howard while allowing Nowitzki to become a star-quality complementary player.
More on the Mavericks

News, notes and analysis of the Mavericks from ESPNDallas.com's Tim MacMahon, Jean-Jacques Taylor and our team.
Blog » ESPN Dallas »

We all know how that worked out. Paul and Howard landed with separate L.A. franchises, never hitting free agency, and the odds are slim at best that either leaves when both have the option this summer. Williams, fearing that he'd be stuck all alone if Father Time tackled Dirk, decided he'd rather stay with the Nets and move to Brooklyn.
It's easy to laugh at the Mavs' logic now that they're hoping to strike a deal in the trade market that will make them relevant in the West again. They're dealing with the downside of a big risk in Dallas.
Had they pulled off the Paul-Howard pairing, however, Dallas' front office would be considered the smartest men in the NBA. And the Mavs would be considered the Thunder's rivals.
ESPNDallas.com
Joined ESPNDallas.com in September 2009
Covers the Dallas Cowboys and Dallas Mavericks
Appears regularly on ESPN Dallas 103.3 FM