Commentary
UNT focused on changing perception
Coach Dan McCarney will try to lead team into a new era in new stadium
Updated:
August 24, 2011, 2:02 AM ET
By
Jeff Andrews
| ESPNDallas.com
DENTON, Texas -- New coach. New stadium. Even new uniforms.
Change is the obvious theme for North Texas entering the 2011 season, and given its recent past, that change couldn't come fast enough.
[+] Enlarge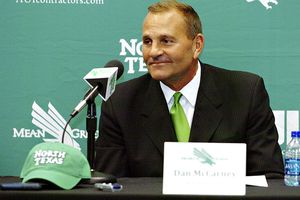 AP Photo/David MintonNew coach Dan McCarney spent 12 years as head coach of Iowa State and the last three as assistant head coach at Florida under Urban Meyer.
Gone is Todd Dodge and his .140 winning percentage, the worst of any head coach in the school's history. Fouts Field, the woefully outdated stadium that didn't measure up to many area high school venues, will sit empty this year.
Enter Dan McCarney, a veteran college coach whose résumé, demeanor and approach are the polar opposite of Dodge's. He'll patrol the sidelines as UNT's head coach in the inaugural season of the long-awaited Apogee Stadium.
Oh, and the team dumped those Southlake Carroll-esque jerseys, too, opting for an all-green look.
"It's time for a change," said North Texas director of athletics Rick Villarreal. "It's time to change the direction of our program because the university is changing its direction. I think this gives everybody a chance to say, 'OK, here we go, it's time to turn the page.'"
The fresh start has UNT thinking it can begin making up the ground it's lost to SMU and TCU since its run of four straight Sun Belt Conference titles ended in 2004, an era when SMU was reluctant to play the Mean Green and TCU was fortunate to escape with wins against its neighbor to the north.
"

The perception is if you want to go small time, you go to North Texas. If you want to go big time, you go somewhere else. That's what we step into. Does that mean it's going to remain that way? Not a chance.

"

-- UNT coach Dan McCarney
But much has changed in the past four years. UNT's record futility under Dodge, TCU's rise to national prominence and SMU's resurrection have made the Mean Green more of an afterthought locally, even in a market that seemingly can't get enough football.
"The perception on the outside is that football stinks at North Texas," McCarney said. "The perception is if you want to go small time, you go to North Texas. If you want to go big time, you go somewhere else. That's what we step into. Does that mean it's going to remain that way? Not a chance."
The team believes it has reason for hope with McCarney. The 57-year-old spent 12 years as head coach of Iowa State and the last three as assistant head coach at Florida under Urban Meyer, giving him considerably more college experience than Dodge had coming out of Carroll.
His boisterous persona and infectious energy make him a great motivator, something the low-key Dodge struggled with. And his background as a defensive coach made him an attractive hire for Villarreal given that the Mean Green defense struggled mightily the past four years while the team focused on perfecting Dodge's pass-happy offense.
In short, McCarney is the anti-Dodge.
STADIUM COMPARISON
UNT moves into brand new Apogee Stadium after hosting games at Fouts Field since 1952.
| | Apogee | Fouts |
| --- | --- | --- |
| Capacity | 30,850 | 30,500 |
| Bathrooms | 27 | 2 |
| Concession stands | 16 | 2 |
| Club Level seats | 760 | 0 |
| Team Store | 1 | 0 |
"He's made such an impact already in just the 10 months he's been here," quarterback Derek Thompson said. "He's such a great motivator. He gets everybody excited. We'll run into a dark alley blindfolded if we have to, just for that guy."
The players may not even realize they're still in Denton when they step onto the field at Apogee Stadium in the venue's inaugural game Sept. 10 against Houston. The contrast with Fouts Field is total.
While Fouts didn't have enough bathrooms or concession stands to meet the basic needs of fans, Apogee has numerous modern amenities, including 21 suites (Fouts had zero), a 760-seat club level with its own food service, and a unique "Eagle Wing" seating section in the north end zone that will be the first thing players see when they come out of the tunnel on game day.
Apogee won't compete with other venues in terms of size -- its capacity is just 30,850 -- but it provides a long-overdue upgrade that gives UNT the air of a legitimate Division I program, something Fouts failed to do.
"We played over there at Fouts," Thompson said. "It has a lot of history, but let's be honest, it wasn't a whole lot of fun to play in. The first time I walked in here [Apogee], I had goosebumps, and it's empty. I can only imagine what it'll be like when we play Houston with a packed house."
North Texas: What if?

A quick look at the Mean Green's upcoming season:
UNT wins Sun Belt if ...
Dan McCarney works miracles. The Mean Green's talent doesn't measure up to that of favorites Florida International and Troy. It will take an effective array of smoke and mirrors to hide the team's warts.
The defense improves if ...
CBs Royce Hill and DaWaylon Cook play well in man coverage. Defensive coordinator Clint Bowen wants to be aggressive, but that won't work if Hill and Cook can't take out their man. The two have started a combined 49 games for the Mean Green, so the onus is on them.
Long-term prospects improve if ...
QB Derek Thompson becomes a viable starter. UNT has played musical chairs at quarterback since Scott Hall's senior year in 2004. Thompson has a chance to be a three-year starter if he develops.
Lance Dunbar wins Doak Walker if ...
He won't. The senior is on the watch list, but former UNT running backs Patrick Cobbs and Jamario Thomas led the nation in rushing in 2003 and 2004, respectively, in addition to guiding their teams to Sun Belt Conference titles. They weren't even named finalists for the award. Maybe if UNT goes undefeated?
Season is a success if ...
The team shows noticeable improvement on the field. It's hard to measure success in wins and losses given UNT's nonconference schedule and coaching turnover. A .500 record in Sun Belt play would be a considerable step forward.
The Mean Green's preseason optimism will get tested early and often in 2011. The team's talent level remains below that of its Sun Belt Conference competitors, and UNT's opener at defending conference champion Florida International on Sept. 1 serves as an early measuring stick for McCarney's crew.
From there, UNT faces a typically murderous nonconference schedule. After the opener against FIU, the Mean Green hosts Houston, plays at Alabama, hosts Indiana and wraps up nonconference play at Tulsa before finishing the year against the Sun Belt.
"We take each game one at a time," said running back Lance Dunbar. "We're not intimidated. We expect to win every game."
Getting out of the first five games healthy may go a long way toward determining whether the Mean Green can compete in the Sun Belt because the team is already unproven at many positions. But UNT knows it has a bona fide star in Dunbar.
The senior accounted for 1,885 yards of total offense in 2010 and really excelled in the last five games, when Mike Canales took over as interim head coach. Canales returns as offensive coordinator in 2011.
"There's always room for improvement," Dunbar said. "I've been trying to gain a little weight and get faster and stronger. I know I'm going to take a lot of hits this season."
Dunbar may have to carry the offense while Thompson and an inexperienced group of receivers jell, and a ball-control offensive approach would help a Mean Green defensive unit that gave up 29.7 points per game in 2010.
McCarney and new defensive coordinator Clint Bowen will keep the Mean Green in the 4-3, but they hope to implement a more aggressive approach, dumping the bend-don't-break zones of the previous regime in favor of man coverage and blitzes.
"I love playing man," said cornerback Royce Hill. "I'd prefer to do that than zone actually. Coach Bowen has designed it for a lot of man with the corners. We're ready for that."
The Mean Green return seven starters on defense. The experience should help, but like so much else with UNT this season, the source of improvement is expected to be the new guy on the sidelines: McCarney.
"There's so much work to be done right now, but I think there's a tremendous opportunity in front of us," McCarney said. "I think everybody realizes where we are at. We can't do anything about the past, but we can control today and tomorrow."
Jeff Andrews is a reporter for ESPNDallas.com.
ESPNDallas.com
Jeff Andrews covers north Metroplex high schools for ESPNDallas.com. He covered high school sports for four years at the Denton Record-Chronicle. Andrews is a graduate of UNT.
MORE COLLEGE FOOTBALL HEADLINES