Commentary
TCU stuck in conference waiting game
Horned Frogs thought they had stability in Big East, but things have changed in a hurry
Updated:
September 23, 2011, 1:42 AM ET
By
Jeff Caplan
| ESPNDallas.com
FORT WORTH, Texas -- Gary Patterson, coach of the 20th-ranked TCU Horned Frogs -- a younger, and through three games, defensively wobblier version of last season's Rose Bowl champion -- reminded the media this week that there is, ahem, a college football season going on.
Patterson will indeed be busy Saturday afternoon directing the game plan against the
lower-tier, albeit feisty Portland State Vikings. It's a home game the Frogs should handle, having learned their lesson from last week's slow start against Louisiana-Monroe and with SMU coming to Fort Worth next week.
However, the higher-stakes game unfolding off the field continues to be the dominant storyline, with the TCU administration exceedingly anxious to escape any more blindside tacklers and finally break for daylight.
TCU thought it hit pay dirt late last year when the smiling Big East honchos arrived in North Texas with an official welcome mat.
The Frogs seemingly had it all. The Big 12 didn't want 'em and, well, for the first time TCU could proudly say to heck with you. As much as TCU would love Texas, Oklahoma & Co. to visit an Amon G. Carter Stadium undergoing a $143 million reconstruction every fall, the lighter Big East provides a far cushier path to a coveted BCS bowl game.
Why butt heads with those territorial perennial powers when Patterson can take his chances with West Virginia, Louisville and Rutgers?
Well, whatever security the Frogs gained with Big East membership was decimated when Syracuse and Pittsburgh dashed to the ACC last weekend out of fear of irrelevance as the Pac-12 neared the edge of becoming the first superconference, only to turn back.
And with the Pac-12's stunning stance to stand pat, the Big 12 was resuscitated for a second time. Suddenly it's the Big East holding the flimsy title as the nation's most fragile league, leaving the Frogs vulnerable to losing the mighty gains they worked so hard to achieve.
[+] Enlarge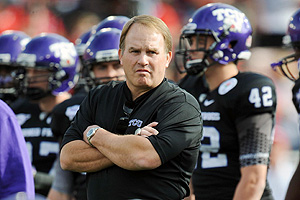 Jayne Kamin-Oncea/US PresswireGary Patterson is trying to keep TCU's focus on the football field despite so much turmoil off it.
The Big East, raided twice now in eight years (Boston College, Miami and Virginia Tech went to the ACC in 2003), is down to seven football schools, including TCU, and UConn wants in the ACC; perhaps Rutgers does, too. If they go, you can count Big East football schools on one hand.
After a Tuesday night meeting of athletic directors and presidents of the seven remaining schools in New York City, the Big East leaders emerged promising solidarity -- UConn excluded -- and a strategy to expand.
Army, Navy, Air Force and Central Florida are on the list. East Carolina has applied for membership. This is not pulse-pounding news and surely must have Big East officials steaming that they didn't sign a new TV deal when they had a chance a year ago. If the league survives beyond the next two years, will it even retain the AQ status that means everything in college football?
The Big East is in survival mode and, in the irony of ironies, the Big 12 -- the same league that has continually alienated TCU -- can potentially land the death blow to the Frogs' new conference. If the Big 12, down to nine teams with the imminent departure of Texas A&M to the SEC, decides to expand to 12 (the internal debate is either 10 teams or a dozen), Big East members Louisville and Cincinnati are among the reported targets, along with BYU.
TCU chancellor Victor Boschini is directing all calls regarding conference realignment to athletic director Chris Del Conte. Del Conte, typically a free speaker, has put his cell phone on lockdown since leaving for New York on Tuesday.
Frankly, there isn't much to say. The Big East is on the brink and TCU can only wait.
"I'll be honest with you," Patterson said, "I don't have much time for it. But hopefully somebody will be smart about all this and understand what's good for college football. But I think TCU will be fine to be honest with you. I think we'll be fine and we'll move on with what we have to do. The biggest thing we can do is go win and keep developing everything."
If the Big East melts away, what's next? Would the Big 12 -- back from the brink again and perhaps with a measure of humility -- have a change of heart toward TCU, the most logical regional and competitive addition to the conference?
More on the Big 12, area colleges
ESPNDallas.com weighs in on issues facing Big 12 South teams, as well as Texas A&M, TCU, SMU, UNT and other area colleges. Blog
• Big 12 Blog
• Blog network: College Football Nation
It's not a dead issue. Oklahoma State president Burns Hargis provided a half-dozen or so schools on the Big 12 expansion list, and TCU is one. OSU coach Mike Gundy offered this:
"If you want to get another member, there's a team in the Metroplex that has won a lot of football games."
Gundy wasn't talking about SMU.
Texas has long been viewed as the main, if not the sole, entity that continually thumbs away the Frogs. To stamp a new member it will require, according to a Big 12 official, a vote by the board of directors -- presidents and chancellors of the league's schools -- and a 75 percent majority.
Could the Big 12 build a consensus without Bevo's blessing? Perhaps in the freshly unified nine-team Big 12, Texas makes concessions. Maybe not.
One opinion floating around TCU suggests that even if a Big 12 invite miraculously fell from the heavens, sticking with the Big East would be the right call. The conference is forcing Syracuse and Pittsburgh to honor their exit obligations, meaning both schools will remain in the league through 2013 and the Big East will continue to hold its AQ standing for at least the next two football seasons.
The thinking is the Frogs would revel in their short-term gains in the Big East and then see how the landscape shifts and, if necessary, set forth again. It will shift. The SEC will need to get to 14 teams. Missouri appears a less likely candidate now, which could vault the ACC's Virginia Tech to the SEC. The ACC has said it is not opposed to expanding to 16.
When and if those additions take place, perhaps the idea of the Pac-16 gains steam and everything moves back to the brink.
Before then, maybe, just maybe TCU has a shot at the Big 12.
If an invite comes, would TCU really turn it down? It would certainly be hard to fathom.
What is known is that on a warm fall Saturday afternoon in Fort Worth, the Frogs will play a college football game.
Jeff Caplan covers colleges for ESPNDallas.com.