Commentary
Contempt, egos kill state's best rivalry
UT's arrogance, A&M's inferiority complex share blame for thwarting Texas tradition
Texas and Texas A&M meet for the 118th time in football on Thanksgiving Day. Then they'll go their separate ways.
Perhaps forever. It's sad, really.
[+] Enlarge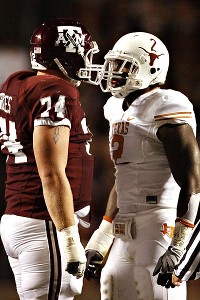 Aaron M. Sprecher/Getty ImagesIn 2009, Lee Grimes and Sergio Kindle displayed the contempt common between A&M and UT. That same contempt threatens to destroy the rivalry once and for all.
Florida
and
Florida State
play, though they're in different conferences. So do
Clemson
and
South Carolina
.
Georgia
and
Georgia Tech
, too.
But Texas and Texas A&M won't.
Ridiculous.
Two great universities -- one consumed with an inferiority complex and the other consumed with arrogance -- are ruining our state's best college football rivalry.
As you would expect, the Aggies blame the Longhorns for ending the rivalry, while UT blames A&M.
They're each culpable.
For the record, A&M's move to secede from the Big 12, then head to the Southeastern Conference, was the final catalyst for the end of this rivalry.
The Aggies can give you 100 reasons moving to the SEC makes sense, but we all know they left because they're tired of being the Longhorns' little brother.
Hence the inferiority complex.
Well, that's what happens when you have one Big 12 title in 15 years -- and none in the last 12 seasons. Heck, the Aggies haven't even played in the Big 12 championship game since 1998, while UT has five appearances and three titles.
After a stellar season in 2010, the Aggies crumpled under the weight of expectations and blew a bunch of fourth-quarter leads to drop out of the Top 25 and become irrelevant on the national scene.
Again.
Now A&M, No. 8 in the Associated Press preseason football poll, is headed to the SEC West to compete against LSU, Alabama and Arkansas, ranked 1-2-3 this week.
Good luck with that.
The Aggies have had an awful season based on expectations, but they'll feel a lot better about it with a win over Texas, which is precisely why the Longhorns aren't interested in playing A&M now that they're becoming an SEC team.
Texas doesn't like the idea of giving the Aggies a chance to salvage their season after getting pounded in the SEC each year by beating the Longhorns.
How's that for arrogance?
Has a program ever thought the world revolved around it more than Texas? We all know the answer.
The Longhorns can whine about A&M's defection opening the state's borders for Alabama, LSU, Arkansas, Florida and others to recruit to their heart's content. This from the school that gets its pick of the state's best recruits year after year.
All I can do is shake my head.
Besides, if the Longhorns' string of average seasons continues over the next couple of seasons -- while they desperately search for a quarterback -- the best recruits will head for other destinations anyway.
It would probably be easier to respect Texas' stance if athletic director DeLoss Dodds, the de facto Big 12 commissioner, would just say he doesn't want to play the Aggies because they left the conference and he doesn't want to help their program.
Instead, Dodds feeds us some poppycock about not having any room on the schedule until 2018 to play the Aggies at the earliest, among the flimsiest excuses ever offered by a big-time AD.
Everybody knows that all Texas has to do is drop a seven-figure check on a nonconference opponent and a schedule slot will magically appear.
Maybe they're scared A&M is passing them in football. After all, the Aggies have won three of five and 13 of the last 25 games against the Longhorns, and they should win Thursday.
Then again, UT wants you to believe Oklahoma is its true rival and playing the Aggies isn't any different than playing Baylor or Texas Tech.
Whatever.
More on the Big 12, area colleges
ESPNDallas.com weighs in on issues facing Big 12 South teams, as well as Texas A&M, TCU, SMU, UNT and other area colleges. Blog
• Big 12 Blog
• Blog network: College Football Nation
The Longhorns love showing off their superiority by beating the Aggies. See, the pettiness and contempt each school has for the other is among the reasons the rivalry is so much fun.
Fans and alumni at each school care about winning the game, and that's why we should have it every year.
Instead, while UT and A&M engage in this silly catfight, Texas loses a tradition right up there with Big Tex.
It's too bad neither school can subjugate its ego enough to continue a great rivalry.
Jean-Jacques Taylor is a columnist for ESPNDallas.com.

ESPNDallas.com
Jean-Jacques Taylor joined ESPNDallas.com in August 2011. A native of Dallas, Taylor spent the past 20 years writing for The Dallas Morning News, where he covered high schools sports, the Texas Rangers and spent 11 seasons covering the Dallas Cowboys before becoming a general columnist in 2006.