Jones: Romo must improve mark
Updated:
December 4, 2013, 5:14 PM ET
By
Calvin Watkins
| ESPNDallas.com
Tony Romo's December record as quarterback of the Dallas Cowboys is 11-15, and as the team enters the final month of the season, owner/general manager Jerry Jones is mindful of that and said it has to change for the better.
More From ESPNDallas.com

Loved and loathed, Tony Romo has Dallas positioned to end its playoff drought, writes Jean-Jacques Taylor. Story »
• Cowboys blog | Top 50 Cowboys

"I think it's real and I don't mean to be trite," Jones said Tuesday morning on his radio show on KRLD-FM in Dallas. "You can probably tie that [into] why we have had disappointments in December. It's hard to build up in this time of the NFL. It's hard to build up enough edge to play at that level during December, so you better be moving or having your arrow going up rather than going down."
Romo has improved his play in December the past two seasons, but in each of the last two regular-season finales, the Cowboys had a chance to clinch a playoff berth and lost.
Romo was 3-2 last December. He had 10 touchdown passes and one interception in the first four games but threw three picks in the finale at Washington, a 28-18 loss.
More from ESPN.com

Tony Romo has already risen to December challenges, but improving and having his teammates follow suit will determine the Cowboys' success, writes Tim MacMahon. Blog
Since 2009, only Green Bay's Aaron Rodgers has posted a better passer rating than Romo; however, in that game against the Redskins, Romo finished with a 55.9 rating.
The previous season, Romo was 1-3 in December with eight touchdown passes and zero interceptions. In a Christmas Eve game against the Philadelphia Eagles, he suffered a bruised hand on the first series and had to leave the game after attempting just two passes. In the regular-season finale, Romo and the Cowboys lost 31-14 to the New York Giants.
Romo has the Cowboys (7-5) on a two-game win streak and is coming off a solid performance on Thanksgiving Day, when he connected on 23 of 32 passes for 225 yards and one touchdown in a 31-24 victory over the Oakland Raiders. Romo, who had a stomach virus last week, is expected to be healthy for next Monday night's road game against the Chicago Bears.
Romo's December Doldrums
Cowboys quarterback Tony Romo has excelled during his career in the month of November but has cooled down as soon as December arrives.
November
December
W-L
24-5
11-15
TD-INT
64-18
41-24
Total QBR
74.7
56.2
-- ESPN Stats & Information
With his team in a first-place tie with the Eagles in the NFC East, Jones said it's imperative the Cowboys start December strong.
"We can't expect to be where we all want to be unless we play better than we've certainly played the last two years," Jones said. "And we've had a Tony Romo playing well, really the last two years and haven't gotten there.
"I've often said it is one of the biggest disappointments of my entire time to have Romo as quarterback and not be in better shape for the playoffs as we looked to his career. We need to change that. That was our goal this year, that should have been our goal this year and we've had some setbacks to some injuries, and every other team does too. And we got a chance to do something about it this year."
ESPN.com
Calvin Watkins covers the Houston Rockets and the NBA for ESPN.com. He joined ESPNDallas.com in September 2009. He's covered the Dallas Cowboys and Texas Rangers as well as colleges, boxing and high school sports.
THE NFL ON ESPN.COM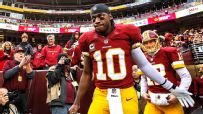 Skip Bayless examines why QB draft picks often fall short of experts' expectations.
Nike Women's Away Game Jersey Dallas Cowboys Tony Romo #9 Shop »