Jerry Jones supports Monte Kiffin
Updated:
December 10, 2013, 7:05 PM ET
By
Calvin Watkins
| ESPNDallas.com
CHICAGO -- Jerry Jones said Tuesday that he still has confidence in first-year defensive coordinator Monte Kiffin, a day after the Dallas Cowboys' 45-28 loss to the Chicago Bears.
Kiffin's defense allowed Chicago to score on eight straight possessions. Backup quarterback Josh McCown threw for four touchdowns, and the Bears were 8-of-11 on third-down attempts.
"

There's nobody I would rather have than him and [D-line coach] Rod Marinelli. ... There's nobody I would rather have to get it fixed.

"

-- Cowboys owner/GM Jerry Jones, on defensive coordinator Monte Kiffin
"He takes it personally; it's hard on him," Jones said of Kiffin during his twice weekly radio show on 105.3 The Fan in Dallas. "Very hard on him. He's been doing this a long time.
"At his age [73], he's had a lot of different experiences. With all of that in mind, he's just got a resolve and he doesn't in any way reject the responsibility. As a matter of fact, he invites it all on himself."
After the loss, Jones said he wished the Cowboys (7-6) would trick up some of their defensive schemes and get more pressure on the quarterback to create turnovers.
When told of Jones' comments, Kiffin told ESPNDallas.com: "We blitzed early, you know, and tried to get some pressure and they got the ball off, and we mixed it pretty well."
The Cowboys used a mixture of man and zone coverages, but the secondary struggled to make plays. Chicago had five pass plays of 20 or more yards.
More from ESPN.com

If Cowboys owner Jerry Jones had any idea of what he really wanted in his defense, maybe the team would be better off. But as it is now, Jones' wishy-washy comments just add to the problems, writes Todd Archer. Blog

"To be doing what we're doing and to fix what we're doing, there's nobody I would rather have than him and [defensive line coach] Rod Marinelli," Jones said. "Where we are today, to get this fixed over the next, if you would, week or four or five days, the next three weeks, there's nobody I would rather have to get it fixed.
"First of all, he knows what's happening to us better than anyone. And if there are adjustments to be made, he's the right man for the job right now."
The Cowboys have allowed 24.9 first downs per game this season, which is on pace to be the worst by any defense since the 1981 Baltimore Colts (25.4).
ESPNDallas.com
Calvin Watkins joined ESPNDallas.com in September 2009. He's covered the Cowboys since 2006 and also has covered colleges, boxing and high school sports.
THE NFL ON ESPN.COM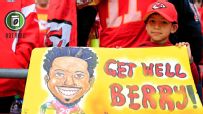 Eric Berry has received an outpouring of support since being diagnosed with cancer.