Chip Kelly: I'm coach of the Eagles
Updated:
December 16, 2013, 2:49 PM ET
By
Phil Sheridan
| ESPN.com
PHILADELPHIA -- Eagles coach Chip Kelly said an ESPN report that he is a candidate for the University of Texas head-coaching job is "just speculation."
"I understand you have to ask the question," Kelly said Monday, "but I'm not involved in any jobs. I'm the coach of the Philadelphia Eagles. I'm going to prepare for the Bears and prepare for the Cowboys after that. Hopefully we have an opportunity to go to the playoffs and I'm going to be here for a while."
The Herd with Colin Cowherd
ESPN CFB analyst Kirk Herbstreit talks about whether Nick Saban considered leaving Alabama, the front-runners for the Texas coaching job, Chip Kelly's future, Art Briles' fit at Baylor and more.
ESPN's Chris Mortensen reported that Texas athletic director Steve Patterson has an "A-list" of coaches he would consider to replace Mack Brown, who announced his resignation Saturday. Patterson's list also includes Seattle Seahawks coach Pete Carroll and Green Bay Packers coach Mike McCarthy.
There was nothing in the report to suggest Kelly has been contacted or has expressed interest.
San Francisco 49ers coach Jim Harbaugh and Pittsburgh Steelers coach Mike Tomlin also have been reported as candidates. Harbaugh declined comment last week when asked about the reports, saying he doesn't "ever talk about any jobs other than the one I have," while NFL.com reported that a source close to Tomlin called the coach's inclusion on Texas' wish list "absurd."
Kelly was similarly linked to the vacant USC job earlier this season.
"I really don't know," Kelly said. "I haven't talked to anybody. It's just speculation. I haven't spoken to anybody."
Kelly was the coach at Oregon for four seasons, compiling a 46-7 record. He turned down an offer to coach the Tampa Bay Buccaneers in 2012. He accepted the Eagles' job in January, replacing Andy Reid.
The Eagles are 8-6 and in first place in the NFC East in Kelly's rookie year in the league. He was asked whether he now considers himself a pro coach.
"I consider myself a pro coach eight times this year, and six times I haven't [been]," Kelly said.
ESPN Philadelphia Eagles reporter
Spent a decade as sports columnist
at Philadelphia Inquirer
Philadelphia native has covered Eagles
in various roles since 1985
THE NFL ON ESPN.COM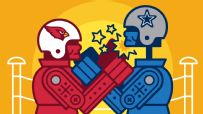 No matter how you slice it, the Cards-Cowboys tale of the tape clearly favors one side.