Brian Hoyer ahead of Johnny Manziel
BEREA, Ohio -- Brian Hoyer is "securely ahead" on the depth chart and will be listed as the Cleveland Browns' starting quarterback going into training camp.
[+] Enlarge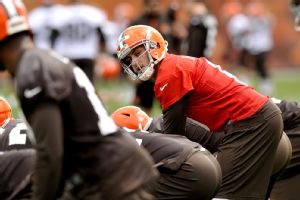 Nick Cammett/Diamond Images/Getty ImagesSo far, Brian Hoyer has the edge when it comes to the Browns' starting quarterback job.
That's the word from coach Mike Pettine -- but he didn't rule out that Johnny Manziel could close the gap.
"I don't think it's insurmountable," Pettine said on the final day of Browns minicamp. "I think that Brian is securely ahead of him right now, but we will compete and we will decide."
Pettine said the Browns haven't been in comparison mode, but Hoyer's experience with the team and in the league give him an edge right now.
"The rookies haven't been here very long," Pettine said. "They're playing catch-up from a playbook standpoint. At this point, we really weren't keeping score. We'll be much more apt to do that when we get to training camp."
Manziel will get reps with the first team to ensure there is a true competition, and probably will get preseason playing time with the starters at some point.
More from ESPN.com

If Johnny Manziel is going to catch up to Brian Hoyer on the Browns' depth chart, he'll have to get the playbook down pat before training camp, Pat McManamon writes. Story
"If a guy has a chance to be a starter, I would think you'd want to expose him to a starting defense," Pettine said.
Hoyer has looked better during the practices, with Manziel still inconsistent. But Manziel has not been able to play with pads on and go full speed the way he will in training camp. At that time, his "Johnny Football" persona could be better displayed.
Rookies will be with the Browns for more orientation next week, then attend the NFL Rookie Symposium. Manziel will take with him an iPad loaded with a playbook as well as various video cutups of his throws, others' throws, opponent defenses and the offense as Kyle Shanahan ran it in Washington.
In the meantime, Manziel "shouldn't concern himself so much where Brian is, but where he is," Pettine said.
ESPN Cleveland Browns reporter
Covered Browns, Cleveland sports since 1998
Previously worked at Fox Sports Ohio, AOL Fanhouse, Akron Beacon Journal/Ohio.com
Cleveland native, proud father of two daughters
THE NFL ON ESPN.COM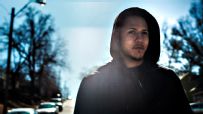 Missouri pass-rusher Shane Ray transformed himself in many ways to become a top prospect.