Cowboys send out playoff tickets
When Dallas Cowboys season-ticket holders open the envelope with their tickets this week, they might be shocked to find what's in there.
Along with all the preseason and regular-season tickets, there's a sheet of playoff tickets, including a ticket for the NFC Championship Game, a game the team hasn't played in since the 1995 season.
More from ESPN.com

The Cowboys might not be able to give fans any hope this season, but at least Jerry Jones found a way to provide cool souvenirs in the form of playoff tickets, Tim MacMahon writes. Story
With all the scrutiny on the lack of postseason success for the Cowboys, who have gone 8-8 each of the past three seasons and have missed the playoffs the past four years, the actual printing of the tickets and sending them ahead of time to fans is sure to cause a stir. Especially because no other NFL team is doing this.
"It's a convenience for our season-ticket holders to have everything in one package," said Brett Daniels, the Cowboys director of corporate communications. "It's an evolution to be fan-friendly. They have their tickets online and if we clinch a playoff berth they go to the computer and click they want the tickets."
Daniels said in previous years the Cowboys would send out playoff invoices in November and mail them out in December. Fans would send in a check or write in credit card numbers on the invoices. Now, everything is done online and gives the fans more control over what they want to do.
Cowboys spokesman Rich Dalrymple added that the team had to send playoff tickets to fans anyway at the end of the season for each of the last three years because the team was trying to qualify for the playoffs on the last game of the year. Because this happens around holiday time, Dalrymple said the Cowboys would be sending out the tickets during the biggest shipping rush of the year, which made the team and fans uneasy.
"Included in this package are your 2014 playoff tickets and parking (if applicable) for two potential home games at AT&T Stadium," read a letter that came with the season tickets. "The barcodes on the tickets will be activated when a home playoff game is clinched and the tickets have been paid in full."
After NFL teams had problems selling out playoff games this past season, especially the Green Bay Packers, who required their season-ticket holders to pay for the full slate of playoff games before the team even made the playoffs, the league changed its policy requiring teams to charge fans for tickets only as a certain game was clinched.
[+] Enlarge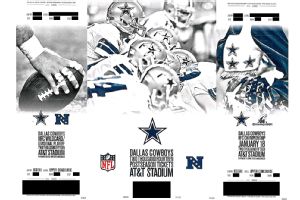 ESPNThe Cowboys included playoff tickets -- including for the NFC title game -- in their packages to season-ticket holders.
"I don't take the challenges that we had on wild-card weekend as any reflection of our fans' passion," NFL commissioner Roger Goodell said at his state-of-the-league address during this year's Super Bowl week. "Those were mistakes that were made by us, the NFL and our clubs. What we have to do is recognize that technology has changed and that we have to use technology more efficiently and more intelligently to make sure we don't put our fans in that kind of position. Green Bay, as an example, sold close to 50,000 tickets over a five-day period, including New Year's Day. We shouldn't be in that position, and that's on us, and we have to fix it, and we will. But that is not an indication in any way of the fans' passion."
Brian Lafemina, the league's senior vice president of club business development, confirmed to ESPN.com that the Cowboys are the only team in the league that preprinted and sent out its playoff tickets to fans in advance this year, but he said he expects more teams to adopt this practice in the future.
"It's operationally efficient for the teams, and it's convenient for the fan," Lafemina said. "There are times when teams don't know if they are hosting a playoff game until a week before, and doing this helps eliminate some of the friction that exists among the teams and fans. This dovetails nicely with our new policy. If a fan says they will pay if a game is played, the team can now charge that fan and the ticket is already in hand."
Ticket industry insiders agree the reason the Cowboys included all the tickets was to encourage season-ticket holders to actually buy those tickets now that they are in hand.
"Doing this is smart because the team has less people to call after the team clinches because so many will be automatically charged," said Patrick Ryan, co-owner of Houston-based The Ticket Experience, which owns seats for the Cowboys as well as 17 other NFL teams. "They then have less tickets to move during the public on sale because season seat holders will have already taken up so much of the allotted inventory."
That's, of course, if the team qualifies to play those games.
"It's a bold move and gives season-ticket holders a tangible asset that they can look at all season long and gives them hope and something to look forward to," said Jimmy Siegendorf, a Cowboys fan who is the owner of Florida-based ticket brokerage Premium Seats USA, which specializes in NFL ticket and tailgate packages. "On the flip side, it could result in salt in the wound if the team falls short of its goals once again."
ESPNDallas.com's Calvin Watkins contributed to this report.
ESPN.com Sports Business reporter
ESPN.com's sports business reporter since 2012; previously at ESPN from 2000-06
Appears on SportsCenter, ESPN Radio, ESPN.com and with ABC News
Formerly worked as analyst at CNBC
THE NFL ON ESPN.COM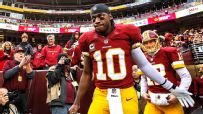 Skip Bayless examines why QB draft picks often fall short of experts' expectations.
Nike Men's Away Game Jersey Dallas Cowboys Jason Witten #82 Shop »