Josh Brent, Roger Goodell meet
SAN DIEGO -- Josh Brent's meeting with commissioner Roger Goodell on Thursday afternoon went well, a source said.
More from ESPN.com

Jason Garrett says the Cowboys will continue to support Josh Brent and welcome him back if he rejoins the team, Todd Archer writes. Story
Brent met with the commissioner to determine whether he would be suspended after being convicted of intoxication manslaughter. He was sentenced to six months in jail and 10 years probation.
He spent the last 45 days of his jail sentence at a drug and alcohol treatment center.
The NFL has not announced whether Brent will be suspended. The source said Brent will return to Dallas until the league rules on his situation.
Cowboys owner Jerry Jones said the team will have a spot on its roster for the 26-year-old defensive lineman if he's not suspended.

ESPNDallas.com
Jean-Jacques Taylor joined ESPNDallas.com in August 2011. A native of Dallas, Taylor spent the past 20 years writing for The Dallas Morning News, where he covered high schools sports, the Texas Rangers and spent 11 seasons covering the Dallas Cowboys before becoming a general columnist in 2006.
THE NFL ON ESPN.COM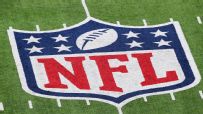 Brain-altering violence could play role in behavior NFL has been unable to control, Dan LeBatard writes.