Dez Bryant (thigh) still not practicing
IRVING, Texas -- The Dallas Cowboys' starting wide receiver situation continues to be a catch-as-catch-can scenario as Miles Austin will miss his second consecutive game and Dez Bryant again didn't practice Friday.
Austin said Friday he was tempted to try to play against the Detroit Lions on Sunday, but finally decided to rest the hamstring injury, what with the bye week coming up.
"I would like to be out there," Austin said, "but we're just being pretty cautious about it and that way I'm full-go for after."
The medical decision trumped the football decision to sit Austin for the Lions' game, even with the inconsistent performance of the receivers Monday against the Washington Redskins.
Bryant -- the last Cowboys player to get onto the practice field at Valley Ranch -- was wearing a tank top and was carrying his shoes. After putting them on and tying his shoes, coach Jason Garrett -- who was hopeful Bryant would practice Friday -- summoned him over for a brief chat.
Bryant went back into the locker room and returned wearing a white, long-sleeved Cowboys shirt.
"We'll see," Bryant said when asked will he play Sunday.
The Cowboys receiver was doing rehab work prior to practice, trying to get in as much as possible to prepare for the game.
Bryant had played through the injury and caught four passes for 63 yards in the Cowboys' 18-16 victory Monday night over the Washington Redskins.
The thigh injury has been bothering Bryant since he was injured returning a punt in the season-opener vs. the New York Jets.
The swelling has gone down, but he's been trying to keep the leg loose. Against the Redskins, Bryant used a yellow compressor between offensive and defensive series.
In other injury news, Tony Fiammetta (hamstring) also did not practice.
Calvin Watkins and Todd Archer cover the Cowboys for ESPNDallas.com.
WEEK 4: LIONS 34, COWBOYS 30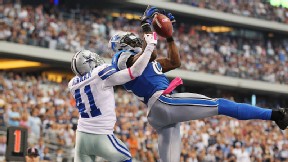 Follow ESPNDallas.com's coverage

of the Dallas Cowboys on Twitter
DALLAS COWBOYS CENTER
Check out ESPN Dallas' home for complete Dallas Cowboys coverage before and after each week's game, including analysis, commentary, videos, predictions, report cards, leaders, photos and more.
Cowboys Center »
MORE COWBOYS COVERAGE
Get the latest news and analysis by checking out ESPNDallas.com's Cowboys Blog.
Former NFL scout Bryan Broaddus breaks down film for the Scout's Eye series.
Submit questions for Calvin Watkins to answer in his weekly Cowboys Mailbag.
NFL BLOG NETWORK