Commentary
Jason Garrett makes you wonder
Coach's decisions throughout Cowboys' collapse against Lions open to second-guessing
Updated:
October 2, 2011, 11:17 PM ET
By
Todd Archer
| ESPNDallas.com
ARLINGTON, Texas -- Jason Garrett stood atop the riser behind the clear-plastic podium and started the news conference with his usual greeting.
"How we doing, guys?" Garrett said.
Well, "a lot better than him" was the first thought that came to mind.
There is little doubt that most of the Dallas Cowboys' 34-30 loss to the Detroit Lions at Cowboys Stadium on Sunday is on the shoulders and fractured rib of Tony Romo.
The quarterback, who was making the 65th start of his career, just cannot make the types of throws he made against the Lions to kiss away what was a 27-3 third-quarter lead. Bill Parcells would have termed those "indiscriminate" decisions.
But Garrett, who is 12 games into his head coaching career if we go back to the eight-game interim run he had last season, cannot be completely absolved of blame as the Cowboys made the kind of history they never want to make again.
Sunday marked the first time in team history the Cowboys blew a 24-point lead. The previous indignity was a 21-point lead that vanished on Nov. 28, 1965, four months before Garrett was even born.
Some of the decisions that seemed irrelevant at the time with such a disparate score came back to haunt Garrett and the Cowboys. Some of the decisions he made in the middle of the fire came back to haunt Garrett and the Cowboys, too.
They fall in the "had we known now what we knew then" category, but that's the life of a head coach in any sport.
Fourth-and-goal from the Detroit 1; 1:47 first quarter; Cowboys, 7-0
The decision to go for it was not an improper one. Calling a run at defensive tackle Ndamukong Suh was. Following the lead block of backup nose tackle Josh Brent, Felix Jones could not advance the ball into the end zone.
"We got a little movement in there," Garrett said. "We just didn't get enough movement. … It's not just speaking to the offensive line and the runners, but you're also speaking a little bit to the defensive unit when you go for it like that. You say, 'We trust you. You're going to get our back.'"
The defense held and the Cowboys scored a touchdown on their next possession for a 14-0 lead, but the failed fourth-down try loomed larger in the fourth quarter.
First-and-10 from the Detroit 17; 00:01 second quarter; Cowboys, 17-3
Maybe this is being greedy -- especially with a 17-3 lead and the Cowboys getting the ball to start the second half -- and it's the most excusable. But after Tashard Choice picked up 14 yards on third-and-1 from the Lions' 31, the Cowboys elected to wait until a second remained to call a timeout.
Why not call the timeout earlier and take a shot into the end zone to Dez Bryant? The Lions had no answer for him and there would have been time to make a safe throw and still give Dan Bailey a chance to end the half with a field goal try.
Given how Garrett chose to be aggressive with pass plays on first downs that led to Bobby Carpenter's interception return for touchdown in the third quarter and Stephen Tulloch's interception that set up Detroit's game-winning drive with 4:22 to play, that move did not jibe.
Second-and-13 from the Dallas 33; 4:32 fourth quarter; Cowboys, 30-24
Matthew Stafford elected to take a shot deep to Titus Young, but the rookie wide receiver was called for pass interference, tugging on Terence Newman as they went down the field. Garrett elected not to take the penalty and push the Lions back an extra 10 yards and keep it second down.
The plan worked with a third-down stop, but it also allowed for Jason Hanson to attempt a 51-yard field goal to cut the Dallas lead to three points.
"It's a hard decision," Garrett said. "We debated it a little bit."
Hanson might be the only Detroit player to remember when the Lions won games (he's 41), but he had made 16 of his past 18 tries from 50 yards since 2007. Make that 17 of 19.
Had Garrett accepted the penalty on Young, Detroit would have had to punt (most likely) or go for it on fourth-and-long.
First-and-10 from the Dallas 20; 4:22 fourth quarter; Cowboys, 30-27
Garrett will take calculated chances as a playcaller. He learned that from Norv Turner, who is lauded to this day for the Cowboys' throw to Alvin Harper in the 1992 NFC Championship Game at San Francisco with momentum on the 49ers' side.
So Garrett did not feel like a first-down pass was too much of a gamble with Detroit having cut the deficit to a field goal. He wasn't expecting Romo to throw off his back foot, unable to get enough on a pass to Jason Witten.
Of course, even if the play connected, it would have been nullified because of a penalty. Seven plays later, however, the Lions completed the comeback.
"It was a disappointing game, a disappointing game," Garrett said. "We did a lot of things really well in this game on offense, on defense and in the kicking game. We didn't do the things necessary at the end of the game to win the game."
They didn't do some of the necessary things before that, either.
Todd Archer covers the Cowboys for ESPNDallas.com.
WEEK 4: LIONS 34, COWBOYS 30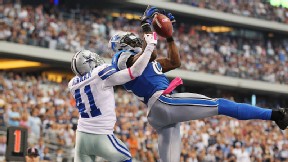 Follow ESPNDallas.com's coverage

of the Dallas Cowboys on Twitter
DALLAS COWBOYS CENTER
Check out ESPN Dallas' home for complete Dallas Cowboys coverage before and after each week's game, including analysis, commentary, videos, predictions, report cards, leaders, photos and more.
Cowboys Center »
MORE COWBOYS COVERAGE
Get the latest news and analysis by checking out ESPNDallas.com's Cowboys Blog.
Former NFL scout Bryan Broaddus breaks down film for the Scout's Eye series.
Submit questions for Calvin Watkins to answer in his weekly Cowboys Mailbag.
NFL BLOG NETWORK