Commentary
Inability to finish bites Cowboys again
This was bad, and not just because it's the biggest blown lead at home in NFL history
Updated:
October 2, 2011, 11:12 PM ET
By
Calvin Watkins
| ESPNDallas.com
ARLINGTON, Texas -- This was bad.
You can't have this whether you're rebuilding, contending for a playoff spot or gunning for a Super Bowl title.
The Dallas Cowboys blew a 24-point lead in a 34-30 loss to the Detroit Lions on Sunday afternoon.
For the second time this season, the Cowboys blew a double-digit lead in the fourth quarter and lost.
It's inexcusable.
[+] Enlarge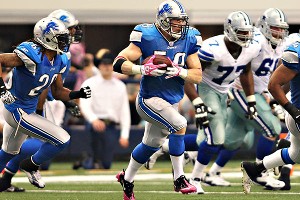 Tim Heitman/US PresswireFormer Cowboy Bobby Carpenter's interception return for a touchdown was one of three second-half picks thrown by Tony Romo that led to Detroit touchdowns.
You can talk all you want about finishing games, but you have to do it.
You must play for 60 minutes.
Have too.
Need too.
The Cowboys didn't.
Dallas coach Jason Garrett has a 24-hour rule: After you beat somebody, you have 24 hours to revel in it and then move on.
Garrett should have a 60-minute rule. Play for 60 minutes.
The Cowboys don't do that.
"When I look at it, it is going to be very tough just to watch the tape knowing we had the lead we had," said quarterback Tony Romo, who was part of the embarrassment with three second-half turnovers. "The ending, it's tough."
The Cowboys needed a win over the up-and-coming Detroit Lions heading into the bye week. Things were looking so good for the Cowboys. They were ahead 27-3 in the third quarter. The Cowboys could have gone into the bye week with a chance to get some injured players healed and some momentum going into the New England game in two weeks.
Now, the momentum is gone.
"Hell, ain't nothing in the bag in the NFL. You know that," defensive coordinator Rob Ryan said. "Everybody plays for 60 minutes or more, and that's the way this game is. That's what makes it so great.
"We just got to keep working and we'll getter better. We're playing as hard as we can. We just got to play a little bit better."
It was so bad for the Cowboys, they tied the largest blown lead at home in league history.
League history.
More Lions-Cowboys Coverage

ESPN.com
They may not want to admit it themselves, but the Lions are brewing something special in Detroit, writes Kevin Seifert. Blog

Rob Ryan called out Calvin Johnson during the week and Johnson made Ryan's D pay in the end, writes John Clayton. Last Call
• Stats & Info: Worst loss ever?

---

ESPNDallas.com
The Cowboys are sticking by Tony Romo, which means they'll have to live with his mistakes, writes Jean-Jacques Taylor. Story
• Archer: Second-guessing Garrett
One more time.
League history.
"You can't forget about this," linebacker Anthony Spencer said. "You want to remember these types of losses. You want to remember the things when you're up like this and the way we didn't finish and we ended up losing the game, and that's something we definitely got to learn from.
"You don't want to repeat that and have it happen over and over during the season. It's not good for a team or momentum either."
There were some issues with the Cowboys overall on Sunday.
It started with the quarterback. He threw three interceptions, leading to 21 points for the Lions. The man has lost seven of his last 10 starts.
The pass rush failed at the wrong time.
Quarterback Matthew Stafford had an empty backfield, letting more players help with protection, especially along the edges.
Stafford didn't make it easy on the Cowboys' pass rushers either, with his quick throws and movement around the pocket. If the pass rush could get to Stafford, maybe Calvin Johnson wouldn't be outjumping the Cowboys' secondary in the second half.
But the Cowboys' offense failed too.
Dez Bryant had zero catches in the second half. The Lions snuck a safety in the box then backed him into coverage at the last moment, adding to the problems.
Of course, Garrett, the man in charge of the on-the-field product, has to fix this.
"You have to understand how to win games like this," he said. "You have to do the things that winning teams do in these situations. We've done that this year at different times. We didn't do that [Sunday]."
More on the Cowboys

Tim MacMahon, Todd Archer and Jean-Jacques Taylor have the Dallas Cowboys blanketed.
Blog » ESPN Dallas »
Top 50 Cowboys

When you look at the big picture of the Cowboys season, a 3-1 record looks so good right now in what is shaping up to be a shaky NFC East. The Cowboys had a chance to visit New England in with a 3-1 record after the bye week.
Instead, the Cowboys are 2-2 and must try to forget this bad loss.
They can't let it be one of those losses that shape the season.
In the early portions of his tenure, Garrett has two bad losses on his resume. There was the 14-point fourth-quarter lead blown at the New York Jets in Week 1, and now Sunday afternoon's meltdown at Cowboys Stadium.
"The only way you can continue is to be pressing on in this league," defensive end Marcus Spears said. "Sometimes you can't explain it. You just want it to get away fast. You want it to go away quick."
Calvin Watkins cover the Cowboys for ESPNDallas.com.
WEEK 4: LIONS 34, COWBOYS 30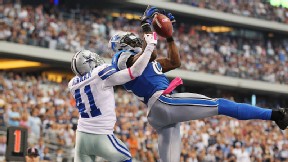 Follow ESPNDallas.com's coverage

of the Dallas Cowboys on Twitter
DALLAS COWBOYS CENTER
Check out ESPN Dallas' home for complete Dallas Cowboys coverage before and after each week's game, including analysis, commentary, videos, predictions, report cards, leaders, photos and more.
Cowboys Center »
MORE COWBOYS COVERAGE
Get the latest news and analysis by checking out ESPNDallas.com's Cowboys Blog.
Former NFL scout Bryan Broaddus breaks down film for the Scout's Eye series.
Submit questions for Calvin Watkins to answer in his weekly Cowboys Mailbag.
NFL BLOG NETWORK