Tony Romo vows title 'at some point'
Updated:
October 14, 2011, 11:50 AM ET
By
Todd Archer
| ESPNDallas.com
IRVING, Texas -- Quarterback Tony Romo, responding to criticism from Hall of Famer Deion Sanders, promised Thursday that the Dallas Cowboys will "win a Super Bowl, at some point."
After the Cowboys' collapse against the Detroit Lions on Oct. 2, Sanders -- who was on Dallas' last Super Bowl team -- proclaimed Romo would not be the one to take the team to its next championship.
More on the Cowboys

Calvin Watkins, Tim MacMahon and Todd Archer have the Dallas Cowboys blanketed.
Blog » ESPN Dallas »
Top 50 Cowboys

"Every once in a while you definitely hear things that come out, but that's not something you search out," Romo said Thursday. "Deion's welcome to his own opinion about stuff. Deion's Deion. He is what he is. We're going to go out here and we're going to play good football.
"This team's going to win a Super Bowl at some point, and it's going to be exciting when that time comes. And when we look back we'll know who was on what side of the fence during the tough moments. That's exciting for us as competitors that we get a chance to get better and go out there and have a chance one day."
Romo was intercepted three times in the loss to the Lions and had two returned for touchdowns. He has had costly mistakes late in both Cowboys' defeats. He had a fumble and interception in the season-opening loss to the New York Jets.
Romo earned high praise for his performances against the San Francisco 49ers and the Washington Redskins while playing with a fractured rib and punctured lung.
Romo will continue to wear a protective Kevlar vest and take another pregame painkilling injection before Sunday's game against the New England Patriots.
"I don't understand this guy," Sanders said on NFL Network. "Just when you want to believe in him -- heroic effort, came back against San Francisco, they said punctured lung and everything. And we praised him. We said, 'Yeah, he's that leader, he's their guy.' And then you come and do this. What are you thinking?
"Sooner or later, we've just got to quit guessing and assuming that this guy's the guy to get you over the hump and say, 'You know what? This guy is always going to be great statistically, but he's not that guy that can take you where you want to go.' And that's the Super Bowl."
Romo is betting he is.
Todd Archer covers the Cowboys for ESPNDallas.com.
ESPN Dallas Cowboys reporter
Covered NFL since 1997, Cowboys since 2003
Previously covered Bengals and Dolphins
Lives in Dallas area with his wife and two children
WEEK 6: PATRIOTS 20, COWBOYS 16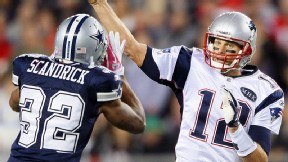 Follow ESPNDallas.com's coverage

of the Dallas Cowboys on Twitter
DALLAS COWBOYS CENTER
Check out ESPN Dallas' home for complete Dallas Cowboys coverage before and after each week's game, including analysis, commentary, videos, predictions, report cards, leaders, photos and more.
Cowboys Center »
MORE COWBOYS COVERAGE
Get the latest news and analysis by checking out ESPNDallas.com's Cowboys Blog.
Former NFL scout Bryan Broaddus breaks down film for the Scout's Eye series.
Submit questions for Calvin Watkins to answer in his weekly Cowboys Mailbag.
NFL BLOG NETWORK