Commentary
Dez Bryant shows smarts in clutch
Young Cowboys receiver proves he has brains and brawn with key overtime catch
Updated:
November 20, 2011, 8:30 PM ET
By
Tim MacMahon
| ESPNDallas.com
LANDOVER, Md. -- Call it a little Dez Bryant versus DeAngelo Hall déją vu.
Just like last time these NFC East rivals met, Bryant got the best of Hall on a third-and-long with the game on the line. Just like last time, Bryant's clutch, chain-moving catch set up a Dan Bailey field goal to give the Dallas Cowboys a close win over the Washington Redskins.
The situations and results were similar. There were, however, some significant differences in Bryant's Redskins-killing catches.
The 30-yard gain Sept. 26 was an amazing display of athleticism. The 26-yard catch in overtime Sunday afternoon provided evidence of intelligence.
[+] Enlarge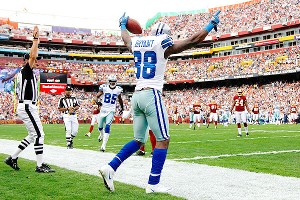 AP Photo/Evan VucciDez Bryant has earned the confidence of quarterback Tony Romo.
The catch at Cowboys Stadium, which came after a schoolyard-like freelance route while
Tony Romo
scrambled, was exciting. The catch at FedEx Field, when Bryant showed advanced football knowledge by adjusting his route based on the Redskins' coverage, was encouraging.
Just ask Romo, whose odds of delivering on his vow to eventually lead the Cowboys to a Super Bowl depend in large part on the development of the franchise's dynamic young receiver.
"The understanding of the game is a big part of it, and he's getting better and better at that," Romo said as he walked to the team bus after the 27-24 overtime win. "It was awesome to see."
Nobody in the NFL has ever wondered whether Bryant had the ability to be one of the game's elite receivers. The questions about him, the ones that caused him to drop to near the bottom of the first round in last year's draft, were all from the neck up.
Would Bryant ever mature enough to be a professional? Was he smart enough to be something more than a flash player who relied solely on phenomenal ability?
Bryant has had plenty of bumps in the road during his brief NFL career, but Romo has insisted several times recently that the 23-year-old receiver has made major strides in the mental aspect of the game. Now, Romo can point to a play that provides proof of that.
The adjustment Bryant made on the 26-yard gain to the Washington 23-yard line sounds simple. Assigned to run a deep crossing route, he broke toward the sideline instead. It was an easy throw for Romo, who had drifted to his left to avoid pressure.
"It hooked up perfectly," said Bryant, who caught three passes for 68 yards and a score in the game.
Romo beamed like a proud papa because Bryant made the exact right split-second decision in a high-stakes situation based on the man coverage the blitzing Redskins played. As soon as Hall bit on the in cut, Bryant recognized he could get wide open by breaking outside, knowing Romo would make the same read.
"Just the timing of it, the ability to get in there and come back out, it was perfect," Romo said. "I don't know how else to explain it. His recognition of the coverage, that's not easy to do for anybody, a 12-year vet that's played in the same system. To do it quickly, get in and get back out in that situation -- big time."
You can bank on Bryant occasionally making spectacular plays. He's going to soar over cornerbacks to make acrobatic touchdown catches. He's going to make would-be tacklers look bad in the open field.
More on the Cowboys

Tim MacMahon, Todd Archer and Jean-Jacques Taylor have the Dallas Cowboys blanketed.
Blog » ESPN Dallas »
Top 50 Cowboys

But the key to Bryant fulfilling his immense potential and living up to the No. 88 on his jersey is doing things that aren't obvious to the casual fan. It's about always being in the right place at the right time, which is much more complicated than it sounds, considering that it often requires adjusting a route after reading the coverage on the run.
That's how Bryant earns the trust of his quarterback and coach.
It's telling that Romo didn't hesitate to go to Bryant with the game on the line, even though Bryant hadn't caught a ball since late in the first quarter.
"He's just getting better each week," Romo said. "I have a lot of confidence in Dez."
Bryant admitted that he was a little bit in awe of the trash-talking Hall, a three-time Pro Bowler, before making his NFL debut at FedEx Field last season. That's no longer the case -- not with Hall, not with any cornerback.
"When the number is called, [there] is no good coverage," Bryant said. "No good coverage."
That's clearly the case with Hall in coverage in a clutch situation. Bryant beat him with raw ability in September. Even better, Bryant beat him with his brain Sunday.
Tim MacMahon covers the Cowboys for ESPNDallas.com.
ESPNDallas.com
Joined ESPNDallas.com in September 2009
Covers the Dallas Cowboys and Dallas Mavericks
Appears regularly on ESPN Dallas 103.3 FM
WEEK 11: COWBOYS 27, REDSKINS 24 (OT)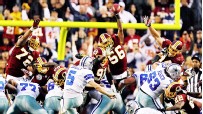 Follow ESPNDallas.com's coverage

of the Dallas Cowboys on Twitter
DALLAS COWBOYS CENTER
Check out ESPN Dallas' home for complete Dallas Cowboys coverage before and after each week's game, including analysis, commentary, videos, predictions, report cards, leaders, photos and more.
Cowboys Center »
MORE COWBOYS COVERAGE
Get the latest news and analysis by checking out ESPNDallas.com's Cowboys Blog.
Former NFL scout Bryan Broaddus breaks down film for the Scout's Eye series.
Submit questions for Calvin Watkins to answer in his weekly Cowboys Mailbag.
NFL BLOG NETWORK