Commentary
Dallas Cowboys still control own destiny
Team has to recover from heartbreaking losses and win on the road to make playoffs
Updated:
December 13, 2011, 2:31 PM ET
By
Calvin Watkins
| ESPNDallas.com
The playoff race is not settled for the Dallas Cowboys.
In the next three weeks, the Cowboys, who today are on the outside of a postseason berth, have a chance to control their own destiny.
Coach Jason Garrett talks about winning one game at a time because if you do that everything else will fall in place.
Well, this Cowboys team has lost its last two games in heartbreaking fashion and we've yet to see if the Cowboys can recover.
There are numerous playoff possibilities that could occur between now and the end of the regular season, but the easiest scenario has the Cowboys winning their final three games, including the regular-season finale at MetLife Stadium against the New York Giants, to give them the NFC East title.
[+] Enlarge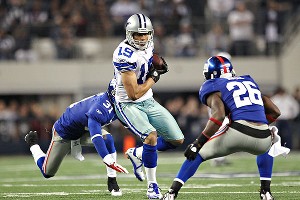 Matthew Emmons/US PresswireThe Cowboys will finish their regular season on the road against the New York Giants on New Year's Day.
Other scenarios put the Cowboys in difficult situations because of tiebreaking procedures that might eliminate them from a potential berth.
Two of the Cowboys' final three games are on the road, at the Tampa Bay Buccaneers on Saturday, versus the Philadelphia Eagles on Christmas Eve and at the Giants on New Year's Day.
"It's like the playoffs for us," veteran inside linebacker Bradie James said after Sunday's 37-34 loss to the Giants. "It's sudden death. We have to win the next three to give ourselves a chance."
The task of winning three consecutive games in December is daunting. The Cowboys haven't won three consecutive games in December since 1996, when Barry Switzer was the coach and they finished that season 10-6, and won a playoff game.
And the Cowboys are not a good December team. Or a team that finishes well down the stretch.
Since 2005, the Cowboys are 13-17 in December and January.
"We need to win on the road and win this stretch of games and put ourselves in position," linebacker Sean Lee said. "No matter how tough this is, we are going to find a way to win. If we do that, then we will be all right and still be in a position to make the playoffs."
What hurts so much is the division loss to the Giants. The Cowboys can't afford losses in the conference and division if they get into a tiebreaking issue with the Giants or quite possibly another team for one of the two wild-card berths.
The Cowboys can also clinch the division title if they win two of their next three and the Giants lose two of their next three.
But that's the "waiting on help theory," something this team doesn't want to rely on.
"It is about coming back and playing our best game next week," quarterback Tony Romo said. "We need to win [against Tampa Bay] and get back on."
The momentum of a four-game win streak that pushed the Cowboys into first place going into December is lost now.
More on the Cowboys

Tim MacMahon, Todd Archer and Jean-Jacques Taylor have the Dallas Cowboys blanketed.
Blog » ESPN Dallas »
Top 50 Cowboys

All that is left is three games, each one meaning everything to their season.
"You have to put your head down and keep playing games," Romo said. "For us, it is about us coming back and figuring out some detail things that we can use from this game to improve and using that."
The two losses this month have resulted after kicker Dan Bailey missed a 49-yard field goal (at Arizona) and had a 47-yarder (versus the Giants) blocked.
They raised questions about Garrett's late-game management skills and why the defense struggled to stop an opposing team in the fourth quarter.
After the Giants trailed by 12 points in the fourth quarter, their offense found another gear, something the Cowboys' defense didn't do in trying to respond.
"I can't speak for the 10 other guys," cornerback Terence Newman said. "In my mind, it was we're going to go get some picks because they're going to throw the ball. I'm upbeat and ready to get my hands on some balls. As far as relaxing, of course you want to try to get a turnover. I think you're more aware in those situations."
You can say the season is on the brink and that would be accurate, but another true statement would be that the Cowboys control their own destiny.
Calvin Watkins covers the Cowboys for ESPNDallas.com.
ESPNDallas.com
Calvin Watkins joined ESPNDallas.com in September 2009. He's covered the Cowboys since 2006 and also has covered colleges, boxing and high school sports.