Rob Ryan targets Eagles, Giants
Updated:
December 16, 2011, 12:22 PM ET
By
Tim MacMahon
| ESPNDallas.com
IRVING, Texas -- Despite the rankings, defensive coordinator Rob Ryan refuses to acknowledge that the Dallas Cowboys are mediocre on that side of the ball.
And he has the fuzzy math to back up his point.
"We've had two bad games this year, period," Ryan said.
Tim MacMahon: Players at fault

Cowboys defensive coordinator Rob Ryan fails to back up his boasts because of the same cast of players that got Wade Phillips fired. Story
The Cowboys (7-6) rank 16th in both scoring and total defense, but Ryan believes if you just subtract two bad games -- vs. the Philadelphia Eagles (495 yards, 34 points) and the New York Giants (510 yards, 37 points) -- suddenly the picture looks pretty rosy. Then the Cowboys shoot up to eighth in total defense and sixth in scoring defense.
"The bottom line is there are no excuses. The thing has to get fixed," Ryan said. "It's on me. It's my watch. But the simple fact is -- and I know no one believes it -- but I know I'm the best coach or the best defensive coach. I'm sure Dom Capers never had to face all the criticism I will, but I really don't care.
"Teddy Roosevelt had a big line on critics. I know you know it, but I don't. I don't give a crap. The bottom line is I tell my players I'm Sugar Ray Robinson. That's who I am. I'm the champ, and I always know I'm the best. I do. ... I'm the man who will fix our problem. All right? And I will get it fixed."
More on the Cowboys

Tim MacMahon, Todd Archer and Jean-Jacques Taylor have the Dallas Cowboys blanketed.
Blog » ESPN Dallas »
Top 50 Cowboys

The Cowboys visit the Tampa Bay Buccaneers on Saturday night. But looming for the final two games of the regular season are -- you guessed it -- the Eagles and Giants.
"Hell yeah," Ryan said. "I'm a competitor and I want 'em. Look out, here they come."
Ryan did acknowledge that there have been some communication issues, and he will alter how he sends in his calls to help in hurry-up situations.
"We're signaling from the sideline as well," Ryan said. "They give you this headset that you talk into and one guy gets the call and you can't line up and you can't huddle. We're not getting it communicated across, so it's obviously a problem. So we have to get that done.
"Two-minute situations have been our Achilles' heel all year. We can look at anything else. That's the facts. That's on me. That's exactly what happened. We've addressed them. We're watching all the two-minute in the film as an entire defense now. We're signaling now. I think we have a better approach, and I think it will help us."
Tim MacMahon covers the Cowboys for ESPNDallas.com. Todd Archer of ESPNDallas.com contributed to this report.
ESPNDallas.com
Joined ESPNDallas.com in September 2009
Covers the Dallas Cowboys and Dallas Mavericks
Appears regularly on ESPN Dallas 103.3 FM
WEEK 15: COWBOYS 31, BUCCANEERS 15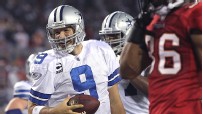 Follow ESPNDallas.com's coverage

of the Dallas Cowboys on Twitter
DALLAS COWBOYS CENTER
Check out ESPN Dallas' home for complete Dallas Cowboys coverage before and after each week's game, including analysis, commentary, videos, predictions, report cards, leaders, photos and more.
Cowboys Center »
MORE COWBOYS COVERAGE
Get the latest news and analysis by checking out ESPNDallas.com's Cowboys Blog.
Former NFL scout Bryan Broaddus breaks down film for the Scout's Eye series.
Submit questions for Calvin Watkins to answer in his weekly Cowboys Mailbag.
NFL BLOG NETWORK