Commentary
Talent alone won't cut it on D
Cowboys defense didn't make plays it needed to succeed ... and that will have to change
Updated:
January 2, 2012, 1:34 PM ET
By
Calvin Watkins
| ESPNDallas.com
EAST RUTHERFORD, N.J. -- In a win-or-go-home game, the Cowboys' defense came up small.
[+] Enlarge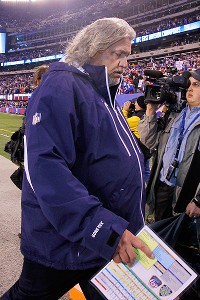 AP Photo/Julio CortezIf defensive coordinator Rob Ryan is back with the Cowboys next season, he will have lots of time to make his system more efficient.
It allowed the first 21 points of the game Sunday ... and when it finally figured things out by slowing the
New York Giants
' offense, it screwed up again.
When the night was over, the Giants pushed their way into the playoffs with a 31-14 victory over the Cowboys at MetLife Stadium.
"We didn't execute the whole game," defensive end Marcus Spears said.
The Giants will head to the postseason to face the Atlanta Falcons on Sunday, while the Cowboys will watch the tape and try to figure out what happened.
"It was all about execution," defensive coordinator Rob Ryan said. "I told our guys execute, give us a chance, and I thought we did that. We came out with a lot of guts and played hard. We finally played better. We didn't play well, that's the bottom line. We didn't play well, we didn't tackle well and it's very disappointing."
You can talk all you want about defensive schemes and who fits what and how and what types of coverages are called at certain times. But the Cowboys' loss goes on the players' side of the ledger.
Cornerback Terence Newman allowed fullbacks to jump over him for yards after catches and couldn't contain the talented wide receivers of the Giants. Orlando Scandrick failed at corner, as well. At one point Scandrick was yelling after giving up a long completion to Victor Cruz, who was playing "Madden 11" on the Cowboys' secondary while tallying six catches for 178 yards and a first-quarter touchdown.
Eli Manning was sacked twice, but he avoided pressures for the most part to complete passes to nine players for 346 yards. Three times the Giants completed the same short pass in the flat, where no Cowboys defender was even around.
Safety Abram Elam was asked to make a play on a run blitz and missed the tackle on Ahmad Bradshaw, who scored on a 5-yard run in the second quarter.
At some point the Cowboys figured out the Giants in the second half.
The defense got pressure on Manning and forced him to hurry his throws. It stopped the run as the Giants tried to take time off the clock. The Cowboys played better in the secondary for a good stretch as Manning completed one pass over 20 yards in the third quarter.
Fundamentals were solid, and it seemed the Cowboys were going to make it a game.
"We woke up in the second half," cornerback Mike Jenkins said. "We came back out and I felt like we did a good job. But we folded late in the fourth quarter. And we could have got a few more holds, but I thought we did pretty good and better than in the first half."
Early in the fourth quarter, the Cowboys cut the deficit to seven points. Then the Giants' offense made a big play, again: There was Manning completing a 44-yard pass to Cruz with Scandrick on the coverage. The Giants got a field goal on the drive to make the score 24-14 with 5:45 left in the contest.
The final blow was Manning's short pass to Hakeem Nicks, when somehow, with Newman trailing the play, it turned into a 36-yard completion. Manning would go on to find Nicks for a 4-yard score, and the game and the Cowboys' season were over.
"We're turning guys loose in the flat, we're missing tackles," Ryan said. "We're getting beat deep in double coverage again. You have to play better than that. The bottom line is that's the way it is. Do I expect to be great? [Expletive] yeah, that's who I am. Our guys are battling a lot of injuries. They battled. We didn't play well; that's the biggest disappointment."
The offseason should bring new cornerbacks, defensive ends, safeties and linebackers. The Cowboys can't replace everybody, but if Sunday night revealed anything it's that this defense needs change.
More on the Cowboys

Calvin Watkins, Tim MacMahon and Todd Archer have the Dallas Cowboys blanketed.
Blog » ESPN Dallas »
Top 50 Cowboys

If he doesn't get a head-coaching job, Ryan will have an entire offseason to make the system work more efficiently. The communication problems the Cowboys had toward the end of the season should decrease. Expect athletic players on the field, especially at inside linebacker with
Bruce Carter
healthy. Maybe a position switch for nose tackle
Jay Ratliff
to end would give the Cowboys front a better look.
"You never know what's going to happen in the offseason," Spears said. "We'll just work toward next year and try to get better as a football team."
Ryan came in with boasts that this might be the best talent he's ever coached, and he's right. But this talent didn't make enough plays for him this season.
"I believe in our guys," Ryan said. "When I came here I believed in what we have. Those guys are more talented than anybody I've been around, and I still believe that. We just got to play better. [Expletive] when we play better we're fine."
Calvin Watkins covers the Cowboys for ESPNDallas.com.
ESPNDallas.com
Calvin Watkins joined ESPNDallas.com in September 2009. He's covered the Cowboys since 2006 and also has covered colleges, boxing and high school sports.
WEEK 17: N.Y. GIANTS 31, COWBOYS 14



Follow ESPNDallas.com's coverage

of the Dallas Cowboys on Twitter
DALLAS COWBOYS CENTER
Check out ESPN Dallas' home for complete Dallas Cowboys coverage before and after each week's game, including analysis, commentary, videos, predictions, report cards, leaders, photos and more.
Cowboys Center »
MORE COWBOYS COVERAGE
Get the latest news and analysis by checking out ESPNDallas.com's Cowboys Blog.
Former NFL scout Bryan Broaddus breaks down film for the Scout's Eye series.
Submit questions for Calvin Watkins to answer in his weekly Cowboys Mailbag.
NFL BLOG NETWORK