Sam Hurd to stand trial on April 2
Updated:
February 2, 2012, 12:08 PM ET
Associated Press
DALLAS -- A federal judge has set an April 2 trial date for former NFL wide receiver Sam Hurd, who is charged with trying to create a drug-distribution network.
Complaint Against Hurd
Sam Hurd was arrested and faces charges of buying drugs with intent to distribute. Check out the criminal complaint against him. Complaint
U.S. District Judge Jorge Solis, in an order Wednesday, set a pretrial conference for March 21 before an April trial in Dallas federal court. The trial could be delayed as Hurd, alleged co-conspirator Toby Lujan and federal prosecutors file motions beforehand.
Hurd, 26, is accused of trying to buy large quantities of marijuana and cocaine, including an alleged one kilogram of cocaine. He was arrested outside of a Chicago-area steakhouse on Dec. 14 and cut shortly afterward by the Chicago Bears.
Hurd, a San Antonio native who played for the Bears and the Dallas Cowboys, has pleaded not guilty.

Copyright 2012 by The Associated Press
SUPER BOWL XLVI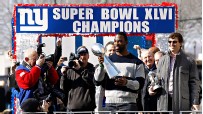 SUPER BOWL XLVI: Giants 21, Patriots 17
SPORTSNATION
PRO FOOTBALL HALL OF FAME
MORE NFL COVERAGE
NFL DRAFT