Source: Colts to cut Peyton Manning
Peyton Manning's 14-year career with the Indianapolis Colts is coming to an end after owner Jim Irsay informed the four-time NFL MVP on Monday night that the team will release him, according to team sources.
Irsay and Manning traveled together Tuesday night from South Florida on Irsay's private jet and will conduct a joint news conference at noon ET on Wednesday, which sources said will be to announce the quarterback's departure.
More from ESPN.com

Several teams will try to land Peyton Manning, but can they afford him? John Clayton examines the salary caps of No. 18's possible suitors. Story
---

Take a long, last look at Peyton Manning, Colts fans. Legends like him don't come around very often, writes Gene Wojciechowski. Story
---
Jim Irsay made the gutsy call, parting ways with franchise icon Peyton Manning. Irsay better hope it's the right call, writes Ashley Fox. Story
---

Sometimes the financial side of the NFL is hard to ignore. In the case of Peyton Manning, it's just impossible, writes Andrew Brandt. Story
---

Is parting ways with Peyton Manning the right decision? How many games will the Colts win in '12? Vote! | Discuss!
• Vote: Best fit? | Out of place athletes

• NFL Nation blog: Manning released
• The Future: Impact | Best scheme?


• Stats & Info: Legacy | Suitors
• Gallery: Manning's career in photos


• Draft: Andrew Luck scouting report

The pair was spotted together in Irsay's car after arriving in Indianapolis. Irsay began to address the media before Manning, while smiling, "We'll see ya'll tomorrow. We're gonna talk tomorrow."
When asked if they were both happy, Manning said: "We're good, we're good. We're gonna talk tomorrow. We're gonna do it the right way tomorrow."
Manning then repeated the same "We'll do it tomorrow" response when asked to describe how tough his pending release was for him.
The decision to pass on the $28 million bonus owed to Manning and not to pick up the four remaining years on his contract means Manning will become a free agent.
Manning will officially become a free agent once the Colts submit his release to the NFL, the league processes it and places his name on the waiver wire. That could happen as soon as Wednesday afternoon, as the league typically distributes that list at about 4 p.m. ET each weekday.
Sources said Manning intends to continue playing despite missing the entire 2011 season after having his third neck surgery in 19 months, a fusion of two vertebrae.
Without Manning, the Colts went just 2-14 and landed the No. 1 overall pick in April's draft.
Irsay has since rebuilt the Colts organization, firing vice chairman Bill Polian, coach Jim Caldwell, most of Caldwell's staff and general manager Chris Polian, Bill's son.
Manning preferred to remain with the Colts, one source said, but a source close to Irsay said the owner concluded that the major restructuring of the organization would include a change at quarterback, likely either former Stanford quarterback Andrew Luck or former Baylor quarterback Robert Griffin III.
One source close to Irsay said the decision was not financially driven, evidenced by the fact the owner chose not to engage in negotiations to restructure Manning's contract.
Free agency begins March 13, but Manning can sign with another NFL team immediately after the Colts formally release him. Indianapolis has until 4 p.m. ET on Thursday to make the transaction official.
Sources said Manning expects to have significant dialogue with interested teams before he makes a decision on where to resume his career and will likely work out for a few select teams once he analyzes his top choices.
Dr. Robert Watkins, who performed the single-level cervical fusion, has stated publicly that he has cleared Manning to resume his playing career and the damaged nerves have regenerated to the point where Manning has thrown the ball with greater distance and velocity in the past few weeks.
To that end, Manning, who turns 36 later this month, conducted an aggressive throwing session in his Colts helmet, shoulder pads and jersey at Duke University on Friday, a source said.
What They're Tweeting

@jonbeason: Wow!!! Payton Manning no longer a colt. In my opinion he's the best to ever play the position! #he'snotdone
-- Panthers LB Jon Beason
---
@ochocinco: A friendly reminder that the NFL is a business Peyton = Legend
-- Pats WR Chad Ochocinco
---
@RyanDLeaf: What an unceremonious end to such an amazing career to arguably the greatest to play the QB position, congrats #18 you are truly a legend!!
@RyanDLeaf: Whatever may come next it just will not b the same seeing the greatest QB without the horseshoe on the side of that white helmet! #beblessed
-- Ex-Chargers QB Ryan Leaf
---
@deemason85: Peyton manning and Reggie Wayne to Denver! Great fit
-- Ex-Titans WR Derrick Mason
---
@BossWard43: They keep talkin bout Peyton Manning loosing his edge. HA! He bout to come back and kill!
-- Browns S T.J. Ward
---
@ChrisHarrisNFL: Peyton's release puts things in perspective.......if Peyton can get released, WE ALL CAN GET RELEASED!!!!!
-- Lions S Chris Harris
---
@ddockett: Peyton to AZ!!!!!!
-- Cardinals DE Darnell Dockett
Sources at Duke and close to Manning confirmed he had been conducting aggressive throwing sessions in shoulder pads and helmet since Feb. 28 at Duke, where his former University of Tennessee offensive coordinator David Cutcliffe is now the head coach. It was Manning's second trip to work under the supervision of Cutcliffe.
Several current teammates who took the field with the quarterback and non-Colts coaches who observed Manning throw in challenging environments during five days of workouts encouraged Manning to keep playing, sources said.
Tom Moore, who was Manning's longtime offensive coordinator beginning in the quarterback's rookie year of 1998, was one of the coaches to observe Manning at Duke, sources said.
Moore retired two years ago, but was an offensive consultant for New York Jets in 2011. His time with the Jets ended with the team's final regular-season game and Moore no longer has any affiliation with the Jets, which enabled him to accept Manning's invitation to observe the workouts.
A former No. 1 overall pick, Manning has broken all of Indianapolis' career records for quarterbacks since being drafted out of Tennessee in 1998. He's taken the Colts to the playoffs 11 times, captured seven AFC South titles in eight years, won two AFC championships, one Super Bowl title and a Super Bowl MVP Award.
But in 2009, after Manning brought the Colts to the cusp of history with a 14-0 start, bad news began to overshadow his lengthy resume. The Colts pulled their starters against the Jets and lost the final two games that season. Indy then wound up losing to New Orleans in the Super Bowl. During the offseason, Manning had the first of his neck surgeries.
Then, after making an early playoff exit in the 2010 season, Manning underwent another neck surgery to repair a damaged nerve that was causing weakness in his throwing arm.
Last July, Irsay signed Manning to a new five-year, $90 million contract extension that everyone expected would keep Manning in Indy for the rest of his career.
But when the nerve did not heal as quickly as anticipated, Manning had two vertebrae fused together in September, a surgery that forced him to miss the first game of his career.
Word of the impending breakup caught one of Manning's closest friends, longtime center Jeff Saturday, off guard. Saturday said Tuesday night that the two had not yet spoken about the apparent decision.
"I never thought it was a foregone conclusions," Saturday told The AP. "I was always hopeful they'd get something worked out, and that he would be back in a horseshoe, but it doesn't look that's going to happen."
Chris Mortensen is a senior NFL analyst for ESPN. Information from ESPN NFL Insider Adam Schefter and The Associated Press was used in this report.
NFL reporter
ESPN Senior NFL Analyst
Joined ESPN in 1991
Has covered every Super Bowl since 1979
The NFL on ESPN.com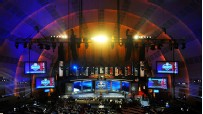 NFL DRAFT ON ESPN
NFL DRAFT PROFILES
HOT BUTTON: KIPER-MCSHAY DEBATES
NFL DRAFT TEAM NEEDS
MORE NFL COVERAGE
MORE NFL DRAFT
Nike Women's Home Limited Jersey Denver Broncos Peyton Manning #18 Shop »