Commentary
Cowboys' O-line seeking consistency
Bill Callahan needs to get unit on track to give Tony Romo time, run-game room
Updated:
September 25, 2012, 2:02 AM ET
By
Calvin Watkins
| ESPNDallas.com
IRVING, Texas -- Considering what the Dallas Cowboys invested in their offensive line in terms of money and draft picks this offseason, you'd expect better from the unit three weeks into the 2012 campaign.
The blame for the inconsistency goes from the coaches to the players.
The reasons for the inconsistency stem from training camp injuries that caused chemistry issues, more physical defenses and the adjustments to new line coach Bill Callahan's teachings.
On Monday, as the Cowboys' offensive linemen were finishing up meetings at Valley Ranch with Callahan, coach Jason Garrett was asked about the bunch. It didn't sound good.
He used words such as "soft" when describing the blocking up the middle and mentioned right tackle Doug Free as someone needing to be firmer with his blocks, while also noting that his quarterback got hit too much.
"I thought at times we played well. At times, we didn't play as well as we needed to," Garrett said Monday. "That's both in the run game and in the pass game. Some of that was because we were behind the chains a little bit in some obvious pass-type situations where they could pin their ears back a little bit. So that's a collective type of thing. But other times, I thought they stood in there."
[+] Enlarge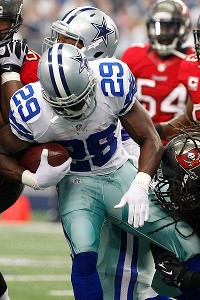 AP Photo/Tony GutierrezThe Cowboys' running attack is averaging just 3.5 yards per carry, 23rd in the NFL.
The Cowboys invested millions in the offseason to improve the offensive line. They signed guard Nate Livings and Mackenzy Bernadeau to contracts totaling a little more than $30 million. Free moved from left tackle to right tackle to accommodate the emerging Tyron Smith, a first-round draft pick in 2011.
The team also hired Callahan and touted him as one of the best in the league when they decided not to re-sign longtime offensive line coach Hudson Houck.
Callahan teaches a zone-blocking scheme, and it appears there is still an adjustment going on regarding the techniques used.
This is Callahan's job to fix.
Injuries to three starters in training camp -- center Phil Costa, Livings and Bernadeau -- sapped the opportunities to jell sooner.
At some point there can't be any more excuses about the line getting on the same page, because the Cowboys need quarterback Tony Romo standing rather than getting knocked around the pocket. Romo is good at avoiding pressure, but he needs time to get rid of the ball.
Romo was knocked down on the first offensive play of the game Sunday against Tampa Bay and later got smashed in the helmet. Romo lay on the ground with his eyes closed.
"As a quarterback, you're going to take a shot, a big one here and there," Romo said after the Cowboys' 16-10 victory. "You know, what I'm talking about is overall throughout the game, constant. When I say that, I mean the physical-ness of the game, and not just with me, but with everybody."
More on the Cowboys

Tim MacMahon, Todd Archer and Jean-Jacques Taylor have the Dallas Cowboys blanketed.
Blog » ESPN Dallas »
Top 50 Cowboys

You can't blame all the hits on the offensive line. The tight ends have to block. They've struggled at times in pass protection. And Romo, too, has to get rid of the ball faster.
"We don't want our quarterback ever to be hit, regardless of what his age is," Garrett said of Romo, who is 32. "We have to do a better job of that. We have to protect better up front and he's got to get the ball out and we've got to call better stuff -- all of those things factor into it. We don't think that's a good thing. We don't think it's good that he gets sacked. We don't think it's good that he gets hit. But that's the nature of the game."
Running the ball and penalties are other issues.
The running attack is averaging just 3.5 yards per carry, 23rd in the NFL. Of the 36 total penalties committed by the Cowboys, 14 have come from the offensive line.
With Costa out, Ryan Cook has taken over at center and there have been cadence problems. These issues, including the protection, must be solved -- yesterday.
"Obviously, it's not good enough," Cook said. "We would like in a perfect world to have no shots, no pressures, and him to just sit back there in the pocket all day and throw the ball. But that wasn't the reality [Sunday]."
ESPNDallas.com
Calvin Watkins joined ESPNDallas.com in September 2009. He's covered the Cowboys since 2006 and also has covered colleges, boxing and high school sports.