Commentary
How about some help for Tony Romo?
Mistake-prone Cowboys can't expect quarterback to win games all by himself
IRVING, Texas -- The Dallas Cowboys have already wasted a year of Tony Romo's career with last season's 8-8 record, when they missed the playoffs for the third time in four seasons.
If Romo's teammates don't provide considerably more help than they've given him the past two games, then they'll inevitably waste another.
Romo is 32. At this point in his career, every season is precious. It's as though each wasted season counts twice. Obviously, Romo will receive at least one more long-term deal from the Cowboys, but he's on the back end of his career.
[+] Enlarge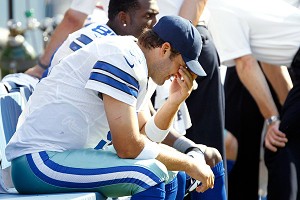 Joe Nicholson/US PresswireTony Romo has had a passer rating of less than 80 in consecutive weeks for the first time since 2009.
During the past two games, the Cowboys have abandoned their quarterback.
Dropped passes. Dumb penalties. Missed blocks. Negative plays.
All of those errors have affected Romo's effectiveness. It's no coincidence he's had a passer rating of less than 80 in consecutive weeks for the first time since 2009 and just the third time in his career.
He's never had three in a row, but if Romo's teammates don't play better Monday night against the Chicago Bears, he'll have another mediocre performance.
Romo is among the best quarterbacks in the game -- not on the tier with Green Bay's Aaron Rodgers and New Orleans' Drew Brees, but on the next level -- but he isn't good enough to overcome the litany of mistakes and botched plays the Cowboys have made the past couple of weeks.
Just about everyone is culpable, from a star such as tight end Jason Witten, who has dropped five passes the past two games, to right tackle Doug Free, the offensive line's highest paid player, to free-agent guard Mackenzy Bernadeau, who was told by the coaching staff he must play better.
And, yes, Romo has made a few impulse throws, which is never good.
Still, how in the world was an offense with Romo, Witten, Miles Austin, Dez Bryant and DeMarco Murray tied for the fewest points in the NFL after three games? All you have to do is look at dumb mistake after dumb mistake after dumb mistake.
The Cowboys, ranked second in the NFL with 31 penalties entering Week 4, are tied with Seattle for the most offensive penalties in the league with 18. Dallas had 22 negative plays -- four sacks, seven penalties and 11 minus-yardage plays -- in its 16-10 win over Tampa Bay last week.
Guess we shouldn't be surprised Dallas ranks second in the NFL with 27 minus plays.
Too many poor plays on first down have resulted in too many long-yardage situations on second and third down. The Cowboys have converted just three of 18 third downs when they needed 10 yards or more.
In 24 of 32 drives this season, the Cowboys have had a sack, a minus play, a penalty or a turnover on the possession. Twelve possessions have included more than one of those drive-killing plays.
Ridiculous.
Those who don't know any better tend to blame the quarterback or the play selection or the offensive philosophy.
Bill Walsh couldn't consistently find a good play for third-and-10 or more. Neither could any other offensive guru in NFL history. Listen to sports-talk radio, and all the chatter is about Jason Garrett's commitment to the run.
Ignore it.
As much as Garrett likes to throw the ball, even he knows running the ball just 36.1 percent of the time -- 27th in the NFL -- isn't conducive to winning football. But it's hard to keep running when it's ineffective and consistently leads to second-and-long.
More on the Cowboys

Tim MacMahon, Todd Archer and Jean-Jacques Taylor have the Dallas Cowboys blanketed.
Blog » ESPN Dallas »
Top 50 Cowboys

Romo tells us all the Cowboys have to do is eliminate the little errors that are sabotaging their offense. Clearly, it's more difficult than it sounds.
The problem with the Cowboys' offense is that one guy isn't the problem. It's a different dude every play.
Garrett must get it fixed immediately.
Perhaps that requires simplifying the playbook or streamlining the conversation at the line of scrimmage, so his linemen can spend more time focusing on their assignments.
The personnel isn't changing until the offseason, so complaining about the interior offensive line is worthless. So is whining about Free, Witten or Felix Jones.
What would help is a few more turnovers from the defense, setting up the offense, which has started just four of 33 possessions, all against Tampa Bay, in the opponent's territory.
As would some help from the return men. Bryant's 44-yard return against Tampa Bay was the first punt return of more than 3 yards by the Cowboys, and Felix Jones ranks near the bottom of the league in kickoff returns.
The game is always about the quarterback, which will never change. But every quarterback needs help -- and Romo ain't getting enough.

ESPNDallas.com
Jean-Jacques Taylor joined ESPNDallas.com in August 2011. A native of Dallas, Taylor spent the past 20 years writing for The Dallas Morning News, where he covered high schools sports, the Texas Rangers and spent 11 seasons covering the Dallas Cowboys before becoming a general columnist in 2006.
Nike Women's Away Limited Jersey Dallas Cowboys Tony Romo #9 Shop »