Terrell Owens: 'I can still play'
Updated:
June 12, 2013, 8:18 PM ET
ESPN.com news services
Terrell Owens hasn't given up on returning to play in the NFL, saying Wednesday that he's more mature now and can still help a team if it is willing to forget his past and give him a chance.
Too Late, Terrell?
Terrell Owens had a memorable 2010 campaign with the Cincinnati Bengals with 72 receptions. Among 18 wide receivers in NFL history to record receptions at the age of 37 or older, only Jerry Rice had seasons with more receptions. But history doesn't smile on 39-year-old receivers. Only three have recorded a catch in the history of the league.
Player
Rec
Yds
TD
Jerry Rice
268
3,648
21
Charlie Joiner
34
440
2
Joey Galloway
12
173
0
Source: Pro-Football-Reference.com
In an interview with the NFL Network's "NFL AM" show, Owens said he hasn't gotten a call from any teams since he was released by the Seattle Seahawks last August.
He said he believes "politics" has much to do with the lack of interest in signing him.
"I think a lot of it has to do with my reputation, things that I've done earlier in my career, but I'm a changed person. I'm a little bit more mature than I was in years past," he said.
He said he believes he could help a team develop its younger receivers but also help on the field, as well.
"I know I can still play the game and it's a matter of somebody just giving me the opportunity to go out there and play," he said.
The 39-year-old Owens hasn't played since Week 15 of the 2010 season while with the Cincinnati Bengals. He sat out the entire 2011 season following surgery on his left knee. He played for the Allen Wranglers of the Indoor Football League last year, but was released and lost an ownership stake in the team in May.
Williamson: More Talk From T.O.

Terrell Owens mentioned the Chiefs as a team he could help but forget that happening, ESPN.com's Bill Williamson writes. Blog
He said he thought the best fit for him would be a team that uses a West Coast system, "considering that's where I started," and mentioned the Minnesota Vikings and the Kansas City Chiefs, coached by Andy Reid, his former coach with the Philadelphia Eagles, as teams he could help.
Owens said he has no regrets about his past, which includes over-the-top touchdown celebrations, feuds with quarterbacks, most notably Donovan McNabb, and an accidental overdose in 2006 when he was a member of the Dallas Cowboys, "because that's part of the maturation process that I had to go through."
"I can't go back and change the past, I can only move forward," he said. "If someone can be open-minded and be able to move forward with me, we can be on the same page and be on board."
THE NFL ON ESPN.COM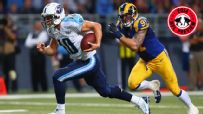 Does speed really matter in the NFL? The answer might surprise you.
ESPN FAN SHOP