Irvin: Bryant capable of 2,000 yards
Updated:
July 26, 2013, 3:31 PM ET
By
Tim MacMahon
| ESPNDallas.com
OXNARD, Calif. -- Count Hall of Famer Michael Irvin among those who believe the Dallas Cowboys' current No. 88 is capable of revising the NFL receiving record book.
Dez Bryant raised eyebrows this summer when he said he believed he was capable of becoming the first 2,000-yard receiver in NFL history. Irvin, who set the franchise record with 1,603 yards in 1995, wholeheartedly agrees that Bryant has that kind of ability.
"He's so physically gifted it's incredible," Irvin told ESPNDallas.com while visiting Cowboys camp for the NFL Network. "He can absolutely do that.
"He's learning how to do more little things now. That means that, 'I know I can run by you any time I want to, but let me make sure I spend time running this in route, that out route to set you up later to run by you.' That's the difference between 1,500 yards -- or 1,382 yards -- and 2,000 yards. It's the difference, and it's not a difference that's really shoulders down. It's a difference that's shoulders up.
"It's your thinking, not your physical gift. He has it physically. When he put it all together with what he does mentally, then he becomes an explosive player, because a lot of the little plays with his ability can always be big plays."
More on the Cowboys

Tim MacMahon, Todd Archer and Jean-Jacques Taylor have the Dallas Cowboys blanketed.
Blog » ESPN Dallas »
Top 50 Cowboys

Bryant had a breakout season last year, catching 92 passes for 1,382 yards and 12 touchdowns in his third NFL campaign. He had 879 yards and 10 touchdowns in the final eight games.
Irvin has seen enough from Bryant to call him one of the most talented receivers to ever play in the NFL, marveling at his explosiveness and ability to make circus catches. Asked if Bryant had more talent than him, Irvin responded with an incredulous look.
"What do you mean? I look at him and say, 'That's what I used to pray for,'" Irvin said. "I used to pray for that! I used to pray, 'Why didn't you give me this?' Absolutely!
"What I was great at we can teach. We can teach thinking through the game, consistent route running. We can teach [that]. What he has, you can only hope and pray that God has blessed you with it."
ESPNDallas.com
Joined ESPNDallas.com in September 2009
Covers the Dallas Cowboys and Dallas Mavericks
Appears regularly on ESPN Dallas 103.3 FM
THE NFL ON ESPN.COM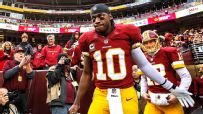 Skip Bayless examines why QB draft picks often fall short of experts' expectations.