Brandon Carr sees birth on FaceTime
Updated:
August 9, 2013, 12:30 PM ET
By
Calvin Watkins
| ESPNDallas.com
OAKLAND, Calif. -- Dallas Cowboys cornerback Brandon Carr had a unique way of watching the birth of his son: FaceTime.
Galloway and Company
Calvin Watkins joins Galloway and Company live from Oxnard, Calif., to discuss the latest news from Cowboys training camp.
The Cowboys had arrived at Los Angeles International Airport early Monday morning after the Hall of Fame game in Canton, Ohio, when Carr got word his fiancée was in labor. Carr flew to Dallas/Fort Worth International Airport to be with her but couldn't get back in time, so he dialed up his iPhone.
"I saw everything I needed to see," Carr told the Fort Worth Star-Telegram. "I saw it all. Technology is wonderful these days. Sometimes you can't control what's going to happen. You've just got to go with the flow. I made the most of it."
More on the Cowboys

Tim MacMahon, Todd Archer and Jean-Jacques Taylor have the Dallas Cowboys blanketed.
Blog » ESPN Dallas »
Top 50 Cowboys

Carr eventually made it to Dallas to be with his fiancée and newborn son, Austin, missing two days of practice.
"No sleep at all, but I wouldn't want it any other way," said Carr, who's expected to play in Friday's preseason game against the Oakland Raiders. "It was a good feeling to be there and actually see your first son. I'm still trying to gather my thoughts and bring it all in. The last two days have been good. It's a blessed feeling."
Carr also has a daughter named Sidney.
ESPNDallas.com
Calvin Watkins joined ESPNDallas.com in September 2009. He's covered the Cowboys since 2006 and also has covered colleges, boxing and high school sports.
THE NFL ON ESPN.COM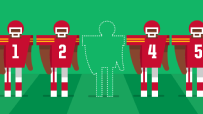 How many good or elite players away from Super Bowl contention was your favorite team?