Dez Bryant buys PS4s for shoppers
Christmas came early for several shoppers at a Dallas Wal-Mart, with Dallas Cowboys receiver Dez Bryant playing the role of Santa Claus.
More on the Cowboys

Tim MacMahon, Todd Archer and Jean-Jacques Taylor have the Dallas Cowboys blanketed.
Blog » ESPN Dallas »
Top 50 Cowboys

Bryant showed up to purchase a Sony PlayStation 4 on the night of the new video game system's launch, and decided on a whim to buy one for several other shoppers who were waiting in line.
The PlayStation 4 retails for about $400.
At local video game stores across North Texas, gamers waited outside for the new PS4 to be released.
A few of the shoppers tweeted about Bryant's generosity, including one man who posted a picture of himself posing with Bryant at the store.
Damn, @DezBryant just bought whoever was in line at a Walmart in Dallas a PS4.

— Marquis Rodgers (@MRodgers2405) November 15, 2013
Bryant likes to boast that he's the world's best "Madden" video game player on PlayStation. He's challenged fans and teammates online to games. He has a few new friends to play against now.
"Holy crap, @Dez Bryant is cool ... just bought a bunch of people PS4s, wish I was there lol," tweeted Ben Freeman.
ESPNDallas.com
Joined ESPNDallas.com in September 2009
Covers the Dallas Cowboys and Dallas Mavericks
Appears regularly on ESPN Dallas 103.3 FM
ESPNDallas.com
Calvin Watkins joined ESPNDallas.com in September 2009. He's covered the Cowboys since 2006 and also has covered colleges, boxing and high school sports.
THE NFL ON ESPN.COM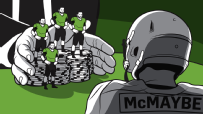 From RG III to Morris Claiborne to Blaine Gabbert, draft-day mega trades rarely pan out.