Updated:
January 3, 2013, 4:15 AM ET
1. Facing Heat, Dirk's Recovery Looks Good
By Michael Wallace
ESPN.com
MIAMI -- Dallas Mavericks coach Rick Carlisle has a unique way of gauging Dirk Nowitzki's progress as he works his way back into rhythm after recently returning from knee surgery.
For now, the process involves placing little emphasis on the numbers Nowitzki produces on any postgame stat sheet.
"Because he's been out so long it's got to be at least a three-week period of him getting re-acclimated, re-conditioned," Carlisle said. "But he's got a great spirit for a guy that's one of the top 10 or 12 best to ever play. He knows we need him. That's why he's out there. Statistically, don't even look at this and try to analyze it until the middle of January."
That said, it was difficult to ignore what the numbers revealed for Nowitzki Wednesday night despite Dallas falling 119-109 in overtime to the Miami Heat.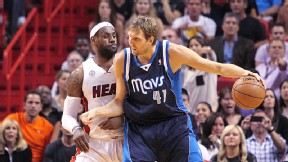 David Santiago/El Nuevo Herald/Getty ImagesWrong-footed jumper? Check. Dirk looks sharp.
Season-high 29 minutes on the second night of a back-to-back set. Season-high 19 points, including 15 in the second half.
In his sixth game back, Nowitzki overcame a rusty start, got hot late and dropped in his vintage, fading jumper off one leg with three seconds left in regulation to send it to overtime. But he lacked the legs to pull Dallas through for a signature victory.
At least that's the case right now.
The Mavericks (13-20) have dropped seven of eight games and aren't into moral victories. But they are encouraged by the prospects provided by Nowitzki's progress. The concern is whether there's enough time to establish the chemistry to get back into the playoff race, and if Nowitzki, 34, can offer enough boost on his surgically-repaired right knee.
By most accounts Wednesday, the knee is responding well. The team, well, not so much. Nowitzki was far more concerned about why -- and how -- his team squandered a six-point lead late in the fourth quarter than how his knee had responded to the most extended test of his season.
After missing the first 27 games of the season, Nowitzki made his debut in a Dec. 23 loss at San Antonio, then played his previous season-high of 26 minutes four nights later in a loss to Oklahoma City. His comeback was marred by losses and poor shooting performances in the initial games, but he's turned a bit of a corner with the turn of the calendar. Nowitzki made five of his seven shots in Tuesday's win in Washington to help end a six-game losing streak that started with a 110-95 loss to Miami in Dallas.
"It was really ugly when I first came back," Nowitzki said Wednesday. "I was two steps slow to everything, and had no lift. But I worked extremely hard the last couple of weeks. I've run after games, do stuff after practices, and I feel like I've got a little more pep in my step again."
Nowitzki said he will speak with Carlisle in the next couple of days about returning to the starting lineup and increasing his minutes. He has come off the bench all six games he's played this season, but was hopeful of regaining his starting job, barring any setbacks, by next week's three-game trip that follows Saturday's home game against New Orleans.
About 90 minutes before Wednesday's game against the Heat, Carlisle said Nowitzki was still playing under a restriction on his minutes but wouldn't offer specifics. After the game, Carlisle declined to offer a status update on when Nowitzki might get back into the starting lineup, but did say the situation "continues to be promising" and that the team will "keep moving forward" with the process.
"He's getting back to where he needs to be from a conditioning standpoint," Carlisle said. "His health is good. The conditioning and the rhythm is what is going to take some time. The fine line is between not going too long in stretches of minutes so that he can play some extended minutes on the one hand, or play some extended minutes so he can really get some conditioning in the games."
Call it the Dirk Dilemma.
The competitor in Nowtizki, who is just two seasons removed from leading the Mavericks to the NBA title, wants to return to form as quickly as possible to salvage this season. But there's also a bigger-picture perspective, with Dallas positioned as a prime player in free agency this summer and aims to surround a healthy Nowitzki with a championship-level supporting cast going into next season.
The Mavericks currently sit in 12th place in the Western Conference standings and are four games out of the eighth and final playoff seed. Nowitzki insists he's conditioned -- mentally and physically -- to get back into contention and make the most of this season.
"I said it during the losing streak -- we're not as talented as some of these teams, but we have to make up for it," Nowitzki said. "I like our chances. We compete. I like what we're doing. We just have to keep on working and keep getting better. Execution down the stretch has been our problem all year. We've got to work on that. Last couple of years, we knew each other so well, it's going to take us a little more time to figure some game situations out."
Meanwhile, he is also figuring out how to read his body and monitor stages of recovery as he plays his way into shape following the first surgery of his 14-year NBA career.
He's coming off the same knee procedure Heat guard Dwyane Wade had over the summer. Wade said Wednesday he understands exactly what Nowitzki is going through trying to regain his footing during the season.
"It's going to take it's own time," Wade said on coping with the recovery process. "It's frustrating, but I think nights like tonight, it makes him feel good that he hit some tough shots and he knows that, 'OK, I've got a long way to go but I can still do it.' But it's going to be certain nights when it's just not going to be there."
Wade, who has faced criticism in some circles about his game being in decline after the surgery, joked that Nowitzki won't have to deal with scrutiny at one level.
"One good about him is he doesn't have to worry about someone saying he's lost his athleticism, because he never had any," Wade said, laughing. "He's able to still to do some similar things that he's done because he plays on the ground. But I'm sure for him, certain moves that he makes, getting his legs into certain shots, it's not going to be there. The biggest thing you do is keep rehabbing, keep it going throughout the year. It's not the easiest feat to do."
But Nowitzki is committed -- and improving.
Minute by minute.
He's no longer wearing the knee brace he had during the first few games he played after coming back.
"The legs feel a lot better than they did a week ago," Nowitzki said. "I'm going to keep working and try to help this team more. Ultimately, I'll start again maybe in a week or so, get my minutes back up, and we'll go from there."
With Nowitzki back, the Mavericks hope to restore order. And that will take a little more time.
So for now, Carlisle won't put much stock in the standings.
Or in Nowitzki's stats.


NBA Writer Michael Wallace
• On Twitter @WallaceNBA_ESPN | On ESPN.com
• Follow ESPN's NBA coverage on Twitter | On Facebook | On Google+
Dimes past: December 18 | 19 | 20 | 21-22 | 23 | 25 | 26 | 28-29 | 30 | 31 | Jan. 1
2. Around The Association
3. Wednesday's Best
Johnson
Joe Johnson, Nets: That's the kind of offensive production the Nets are paying the big bucks for. Johnson dropped in a season-high 33 points, including five 3-pointers, as his team rode a hot fourth quarter to a 110-93 win in Oklahoma City.
4. Wednesday's Worst

Reeling Celtics: The team that was one "good job, good effort" from knocking off the eventual champion Heat last June took its fourth straight loss, with former Green-teamer Tony Allen dropping 15 points on Boston. With Indy, Atlanta and New York looming, a seven-game losing streak is not out of the question.
6. Tweet Of The Night
From now on, Haslem says no longer wants to be called Udonis or 'UD'. He said address him in 2013 as Django, FWIW.

— Michael Wallace (@WallaceNBA_ESPN) December 31, 2012
7. Quote Of The Night
"I said, 'It's a bad call.' They've got a quick trigger now."
--Thunder forward Kevin Durant, on how he got ejected from an eventual loss to the Brooklyn Nets.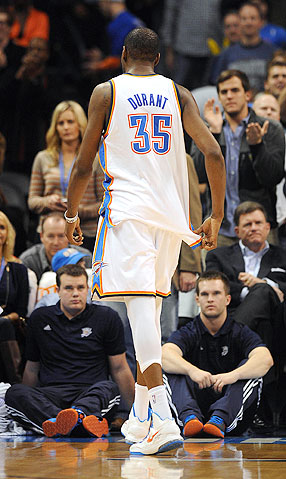 Mark D. Smith-USA TODAY Sports
Oklahoma City Thunder forward Kevin Durant leaves the floor after being ejected for a second technical foul in action against the Brooklyn Nets during the second half. It was his first career ejection in six NBA seasons.
By Elias Sports Bureau

The Clippers won their last 17 games of 2012, but they're 0-2 in 2013, with losses at Denver on Tuesday and at Golden State on Wednesday. The 2012-2013 Clippers are one of 14 teams in NBA history to win 17 or more consecutive games in one season. More than half of those teams (eight of 14), including each of the last four, lost at least two straight games immediately following those winning streaks.
MVP: Luis Scola finished with 21 points, nine assists and four rebounds, including a 14-point third quarter that came by way of sharp shooting from about 17 feet out. He hit P.J. Tucker for a 15-foot jumper with just over a minute to play to give Phoenix a buffer of a six-point lead.
X factor: Phoenix point guard Goran Dragic was aggressive on both ends against Philadelphia's Jrue Holiday. Holiday did post a triple-double (16 points, 10 assists and 10 rebounds) but he also had six turnovers and hit just six of 16 shots, in part thanks to Dragic's defense.
That was ... awkward: A large contingent of Kansas State fans in Phoenix for the Fiesta Bowl got off three first-half chants pleading to see former Wildcat Michael Beasley. Alvin Gentry obliged in the second quarter, and the Sixers outscored the Suns 17-6 during that span. The forward didn't return for the rest of the game.
MVP: David Lee was the linchpin of a fantastic defensive effort, but he also keyed the offense from the high post most of the night. Lee's sweet touch from 15 feet and phenomenal court vision had the Clippers' frontcourt flummoxed.
LVP: Blake Griffin. This was Griffin's worst game this season. He shot 2-for-11, had no offensive rebounds, and was lit up by Lee. Griffin's wide-open 3-point attempt that hit the side of the backboard summed up his night pretty well.
X factor: Help defense. Give Mark Jackson credit -- his team has bought into a help-oriented defensive philosophy. The Warriors allowed no easy layups, they rebounded (plus-15), and they held the Clips to 36 percent shooting. Stephen Curry was great (31 points), but the D was even better.
MVP: Raptor point guards. With the focus being on if Kyle Lowry would accept a reserve role, he's happily done so for three games. He and Jose Calderon combined for just three field goal attempts and dished 22 assists.
X factor: Terrence Ross. The rookie had a huge breakout game, scoring a career-high 24 points, including six of nine from long range, and chipping in two steals as well. He's become a fan favorite very quickly.
That was ... rare. The Raptors hadn't beaten the Blazers since January of 2008, a span of eight games. That includes early in December, when a Batum-and-Matthews-less Blazers stomped the Raptors 92-74, the turning point of their season.
MVP: Carlos Boozer did whatever he wanted offensively against the Magic's front line, finishing with a season-high 31 points and 11 rebounds. Boozer made a living in the paint and had his funky jumpshot going down from midrange for good measure.
X factor: Even though Jameer Nelson missed a potential game-tying jumper with 5.9 seconds left, he deserves an honorable mention for keeping Orlando within striking distance until the waning moments of the game by tying a career-high with 32 points.
That was ... more like it. Coming off an embarrassing loss to the Charlotte Bobcats on New Year's Eve, and despite not having Joakim Noah (flu) available to play, Boozer, Luol Deng (23 points), and Taj Gibson (21 points, 11 rebounds and four blocks) carried the Bulls to victory.