Updated:
November 8, 2012, 1:32 AM ET
Nuggets Have Holes That Need Fixing
By John Hollinger
ESPN.com

Soooo ... about that Nuggets pick.
No, Denver isn't looking much like a 59-win team these days, even after breaking into the win column with a win over the Pistons, the official salve of struggling Western Conference teams.
While the Nuggets looked more Nugget-y against Detroit and in a buzzer loss to Miami than in depressing season-opening losses to the Sixers and Magic, this still isn't quite what we expected from Denver. Even those with more muted expectations than mine thought this was a surefire playoff team, but thus far the Nuggets have combined mediocre offense with subpar defense.
The defense part is perhaps easier to explain, if still surprising. The Nuggets weren't a particularly good defensive team last season, and while the addition of Andre Iguodala figured to improve their standing some, one could see -- in a four-game sample that included the league's best offensive team -- how they might rate below the league average. They have two elite wing defenders (Iggy and Corey Brewer), but their bigs still struggle against the pick-and-roll and with help assignments (especially when JaVale McGee and Kenneth Faried share the court), and the Nuggies have been weirdly unable to force turnovers.
Sixers Gambling On Andrew Bynum
By Brian Windhorst
ESPN.com

Bynum
PHILADELPHIA -- When Andrew Bynum was introduced on opening night alongside his Philadelphia 76ers teammates last week, he received a huge roar even though he was wearing a suit and had yet to even practice in a Sixers uniform, much less play a game. It matched the enthusiasm with which he was greeted in August, when more than 1,000 fans turned up at the news conference following the blockbuster trade that brought him to town.
Those cheers are within the honeymoon period he's still enjoying. They're for not just Bynum, but the entire franchise. Despite a 1-2 start that's been hampered by injuries to Bynum and fellow new arrival Jason Richardson, this has been the most anticipated season in Philly since Allen Iverson was in his prime. Neither will play tonight when the Sixers get their first national exposure this season when they play the New Orleans Hornets on ESPN at 8 p.m. ET.
But this season isn't just about anticipation, it's about risk.
5-on-5: Spurs-Clippers, 76ers-Hornets
By ESPN.com
1. Fact or Fiction: The Spurs are the best team in the NBA.

Henry Abbott, ESPN.com: Fiction. Crushing the Pacers was impressive. Beating the Thunder is always big. And Tim Duncan's fountain of youth may be the story of the young season. They darned near lost to the Hornets, however. Let's talk again in a month before handing them any hardware.
Jovan Buha, ClipperBlog: Fiction. The Miami Heat, until dethroned, are still the league's best team. That doesn't mean the Spurs won't win the most regular-season games or post the best point differential; I just can't bring myself to bet against LeBron James and his South Beach crew. The best out West sounds more reasonable.
Joe Gerrity, Hornets 247: Fiction. The Spurs might be playing better ball than anyone so far this season, but in a seven-game series for keeps I'll take the Heat all day.
Graydon Gordian, 48 Minutes of Hell: Fiction. The Spurs haven't skipped a beat and look poised to finish the season with the league's best record. But the defending champs are the most talented team in the NBA. Their casual attitude regarding the regular season has never been a good reason to doubt them.
Tom Sunnergren, Philadunkia: Fiction. As much as I'd love to reward the Spurs' persistent, stubborn greatness with a small slap on the back here, no matter how hard I squint at this thing, I just don't see it. If the criterion is who's played the best basketball since Oct. 30, my answer is the Knicks. If I'm making a more holistic judgment, it's still the reigning champs.
Davis And Rivers Out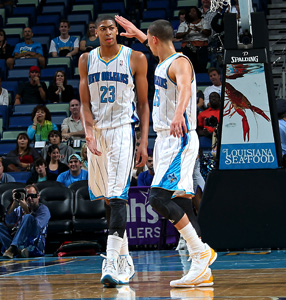 NBAE via Getty Images
The Hornets' star rookies, Anthony Davis and Austin Rivers, are both out with injuries for tonight's showdown with the Sixers.
Sixers' Jrue Holiday Ready To Shine
By Israel Gutierrez
ESPN.com

Holiday
PHILADELPHIA -- The sense of uncertainty in Philadelphia is inescapable, with question marks surrounding 25-year-old cornerstone center Andrew Bynum and his ailing knee.
That, however, isn't currently paired with panic or confusion or doubt.
Part of that is because the roster, even without Bynum, features so many new parts that there's a natural sense of excitement.
Part of it is because head coach Doug Collins won't let disappointment set in. It does his healthy players no good, and it would only add angst to an already eager-to-return Bynum.
But perhaps the most calming influence on a team that has every reason to be uneasy is Jrue Holiday, the point guard who finally gets to play that role.
• To read the entire column, click here »