Texas Motor Speedway
Texas-Sized Move
Jimmie Johnson surged past eventual Sprint Cup champion Brad Keselowski to win at TMS. Story » Blount: Fight far from over » Unstoppable?

Danica's progress » TMS results » More »
Tom Pennington/Getty Images
2013 RACE EVENTS
Oct. 31-Nov. 3, 2013
NASCAR Chase for the Sprint Cup, NASCAR Nationwide Series and Camping World Truck Series
June 6-8, 2013
IZOD IndyCar Series race and NASCAR Camping World Truck Series competition
April 11-13, 2013
NASCAR Sprint Cup Series and NASCAR Nationwide Series.
TRACK GUIDE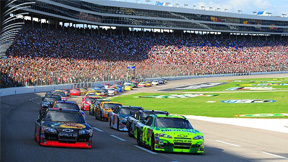 Texas Motor Speedway, in North Fort Worth, opened in April of 1997. The track hosts two NASCAR Sprint Cup races and one IndyCar race in 2013. It seats 138,122. Guide »
COLUMNISTS
Ed Hinton
Awesome-In-Waiting
The transformation of Chase Elliott, son of former champion Bill Elliott, is unfolding according to plan. At age 18, Chase's journey has been nothing short of ... well, awesome.
Marty Smith
Door-to-Door
Some folks you have to take time to talk to. Whether it's about an eye-opening Indy 500 run, old-school NASCAR or the way things ought to be, Donnie Allison is one of them.
Ryan McGee
Power Rankings: Texas
Dale Earnhardt Jr. is king of the Sprint Cup Power Rankings again this week. The biggest gainer? That would be the Outlaw: Martinsville winner Kurt Busch.
MEDIA
Marty and McGee
Marty Smith and Ryan McGee talk Joey Logano's victory at the Duck Commander 500, discuss Earnhardt Jr.'s weird wreck, and visit with 2014 ACM New Artist of the Year Justin Moore.
Marty and McGee
Marty Smith and Ryan McGee talk with Kyle Larson about his first career victory in the Nationwide Series and what it's like to have endorsements from racing legends.
Marty and McGee
Marty Smith and Ryan McGee discuss this weekends race in Fontana, who they think will win the race and talk with racing, hunting and fishing legend Hank Parker Jr.
Marty and McGee
Marty Smith and Ryan McGee chat with Kurt Busch about his upcoming Indy car race, his work with the Armed Forces Foundation, how drivers change over time and much more.
Marty and McGee
Dale Earnhardt Jr. joins Marty Smith & Ryan McGee to discuss his Daytona 500 victory, how this win was different from his 2004 win, how much he's changed as a person and more.
Marty and McGee
Richard Petty joins the 406 to share stories about the good ole days. Plus, Marty and McGee address the conspiracy theory surrounding the Daytona pole position.
Marty and McGee
Michael Myers of Queers4Gears.com joins Marty Smith and Ryan McGee to discuss the impact Michael Sam's announcement will have on the sports world, what it would mean if a NASCAR driver came out, who should be on NASCAR's Mt. Rushmore and more.
Marty and McGee
Marty Smith and Ryan McGee talk with NASCAR driver Kasey Kahne about the Seahawks Super Bowl victory, the passion of Seattle fans, the upcoming racing season and much more.