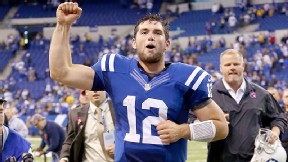 Andy Lyons/Getty ImagesThe guys will cover Week 5 in the NFL and more.
Greeny and Golic welcome ESPN MLB Insider Buster Olney (6:45 a.m. ET), Colts interim coach Bruce Arians (7:30), ESPN NFL analyst Cris Carter (7:45), ESPN New York 98.7 FM's Michael Kay (8:00), ESPN NFL analyst Mike Ditka (8:15), ESPN NFL analyst Ron Jaworski (8:30), Pro Football Hall of Famer Howie Long (9:00), ESPN NFL analyst Tim Hasselbeck (9:15) and NASCAR's Matt Kenseth (9:45) to the show on Monday morning.
Get in touch with Mike & Mike by emailing (mikeandmike@espnradio.com), texting (73776) or tweeting the guys (@MikeAndMike) -- we'll be with you from 6-10 a.m. ET. Follow all of the action on ESPN2, ESPN Radio or ESPNRadio.com.
MIKE & MIKE'S 15TH ANNIVERSARY
MIKES & WIVES
The wives of Greeny and Golic, Stacy Greenberg and Christine Golic, join the guys to reflect on the past 15 years of "Mike & Mike." Listen

Espngreeny Mike Greenberg
Atta boy. Congratulations.RT "@tincan1099: My children (twin boys) were born today and I stayed NORTH of the equator."
2 minutes ago

Espngreeny Mike Greenberg
In the 80's every kid in NYC idolized Chris Mullin. Great player, terrific person. Huge challenge ahead. I'll be rooting for him like crazy.
5 minutes ago

Espngreeny Mike Greenberg
Overwhelmingly beautiful. RT "@Ivan_Maisel: Given the response to my eulogy for Max, I decided to publish it: https://t.co/SFBuLJlKry"
about 5 hours ago

jemelehill Jemele Hill
Lot of great coaches out there. Sorry, but Tom Izzo is the best college basketball coach in the country.
about 9 hours ago

MikeAndMike Mike & Mike
"I firmly believe Mike Krzyzewski is the best coach in ANY SPORT right now." - @DickieV http://t.co/Dlytq7V3UL
about 10 hours ago

MikeAndMike Mike & Mike
"This wasn't about me coaching, this was about players playing." - Tom Izzo on Michigan State's Final Four run http://t.co/4DYaqagZBN
about 10 hours ago

MikeAndMike Mike & Mike
"With 7 Final Fours & a National Championship, why isn't Tom Izzo in the Basketball Hall of Fame?" - @DickieV http://t.co/Wu4rhmNXcH
about 11 hours ago

MikeAndMike Mike & Mike
"It looks like OKC has one more chance to win. Next year they have to play like the world is ending." - @bomani_jones http://t.co/w5cyb4BLNC
about 12 hours ago

Espngreeny Mike Greenberg
So, three one-seeds and Tom Izzo in the Final Four. Should be fun.
1 day ago

Espngreeny Mike Greenberg
Too many fouls and missed shots for #Gonzaga. Shame. Would love to see them make a Final Four. Hope they do it soon.
1 day ago

Espngreeny Mike Greenberg
That's a terrible call. #Gonzaga #Duke
1 day ago

NDBlogGonzo Anna Gonzalez
Sunday Funday! Time for Part 2 of @espngolic vs. @SydGolic: Mario Kart on N-64 (feat. a cameo by @IAMannalynnemcc) https://t.co/WF5jX1VSUP
1 day ago

MikeAndMike Mike & Mike
NERD NOTES: Louisville has won 94 straight games when leading by 6 or more at the half. LOU leads MSU, 40-32. http://t.co/2E3bpdxsBN
1 day ago

Espngreeny Mike Greenberg
Three words: Hot Yoga, Noon.Will report back if I survive.@StacyGSG @jemelehill @CariChampion #SpiritualGangster
1 day ago

MikeAndMike Mike & Mike
NERD NOTES: Kentucky wins 38th game of season, tied for most wins in a single college basketball season EVER. http://t.co/ksEQdg2aLO
1 day ago

Espngreeny Mike Greenberg
That was as good as it gets. #NDvsUK
1 day ago

MikeAndMike Mike & Mike
NERD NOTES: Kentucky did not miss a FG the final 12:05 of the game, going 9-9 down the stretch. (via @SeanFarnham) http://t.co/FjU9JB4Kib
1 day ago
#GOLICBUTTPHOTO SHIRT
Muze Clothing has created a shirt featuring the infamous #GolicButtPhoto. All proceeds benefit the South Bend Center for the Homeless. More »
FRANK CALIENDO
Our favorite moments with Frank Caliendo:
-Watch: 'A Visit from St. Nicholas'


-Watch: William Shatner


-Listen: #GolicButtPhoto voicemails


-Watch: Donald Trump


-Listen: Trick-or-Treat


-Watch: Stephen A. Smith


-Watch: Mel Kiper Jr.


-Watch: Charles Barkley


-Watch: Allen Iverson's rant


-Watch: Remembering Robin Williams


-Watch: LeBron James' letter

THE HIGHLIGHTS
Bomani Jones, CBB
ESPN Radio's Bomani Jones offers his insights on Elite Eight matchups, Kentucky's legacy, Chris Mullin's offer from St. John's, the prognosis for Kevin Durant and Durant's future.
Seth Greenberg, CBB
ESPN CBB analyst Seth Greenberg discusses Gonzaga-Duke, Michigan State-Louisville, Tom Izzo's strengths, Sam Dekker's performance against Arizona and Notre Dame's strategy for Kentucky.
Tom Izzo, Michigan State
Michigan State coach Tom Izzo dishes on his team's improvement, beating Louisville, his exchange with Denzel Valentine in the game, preparing for Duke and the Spartans' tournament mindset.
Frank Kaminsky, Wisconsin
Wisconsin F Frank Kaminsky comments on his pregame routine, Sam Dekker's abilities, the Badgers' approach to Kentucky, the squad's Final Four mindset and Andy North's support of the team.
On the Sweet 16, 3/27
Mike Greenberg and Mike Golic react to Kentucky's rout of West Virginia, trash talk's impact on the game, Notre Dame's win over Wichita State and Wisconsin-North Carolina.
Roy Williams, North Carolina
North Carolina coach Roy Williams comments on his team's inconsistency, preparing for Wisconsin, CBB officiating, potential changes to the game and Kennedy Meeks' injury.
Louis Riddick, NFL
ESPN NFL Insider Louis Riddick covers Randy Gregory's positive marijuana test at the combine, Jameis Winston's draft position, Adrian Peterson's future and the potential for a Chargers-Titans trade.
Paul Pierce, Wizards
Wizards F Paul Pierce dishes on his health, the outlook for Washington, whether Kentucky could compete in the NBA, the race for MVP and the off-court relationships between teammates.
BEST OF MIKE & MIKE ON ESPN RADIO: SHOW PREVIEW OCTOBER 8, 2012