Stoney LaRue Charity Poker & Golf Classic
Updated:
May 4, 2012, 12:22 PM ET
DALLAS, TX -- Award winning singer/songwriter Stoney LaRue will host his Music & Arts Foundation charity celebrity poker & golf classic to benefit the Cook Children's Recording Studio Project on June 3 and 4 in Lewisville & Grapevine, TX.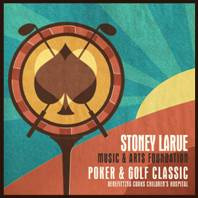 Give Ben and Skin your full three as they broadcast live from the golf classic on June 4, and hook up with the ESPN Street Team both days for your chance to win some cool swag!
"It feels great to finally be in a position to help others find their own outlets of expression and creativity," said LaRue. "That is what the Music & Arts Foundation is all about. This inaugural year of the tournament will benefit the Cook Children's Recording Studio Project which is doing some great things for the kid's there."
The two day event kicks off with a charity celebrity poker tournament which includes dinner and post tournament concert. The charity poker tournament starts at 4PM on Sunday June 3 at Hat Tricks (101 East Corporate Dr. #300 Lewisville, TX) featuring Josh Weathers and more. The event continues the next morning Monday June 4th at 11:00A with a three-man golf scramble at the beautiful Cowboys Golf Club (1600 Fairway Drive, Grapevine, TX) followed by an acoustic concert on the course. The evening concert will be open to the public at 7PM by Stoney LaRue and friends including Jason Boland and many others to be announced soon. A full list of celebrities and musical lineup will be available soon at stoneylarue.com/foundation
Tickets and golfer registration are on sale now. Tickets to participate in the charity poker tournament, dinner and concert are $100 (concert only and spectator tickets also available). Registration for the golf tournament is $250 and includes a post golf tournament concert ticket and more. Fans interested in the post golf tournament concert only can purchase tickets for $20. For additional information on all the festivities and to purchase tickets visit stoneylarue.com/foundation.
What: Stoney LaRue Charity Poker & Golf Classic
Where: Hat Tricks and Cowboys Golf Club
When: Sunday, June 3 and Monday June 4