Dirk Nowitzi's Heroes VIP Experience
Updated:
May 31, 2012, 7:11 PM ET
Starting Friday, June 1 we're giving our listeners a chance to win a fabulous VIP experience to Dirk Nowitzki's 2012 Heroes Baseball game on June 30!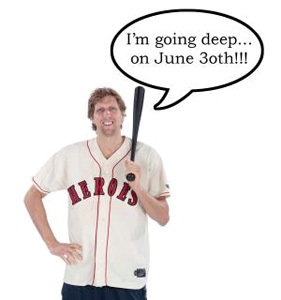 One lucky winner and 3 guests will win the ultimate VIP package to the game!
You and your guests will get to attend the training camp event the day before the game and visit Ben and Skin in the broadcast booth.
Then, on gameday, you'll sit in VIP seating, get to tour the field, locker room and dugout before the game, attend the media only press conference, get a customized Heroes baseball game jersey ... PLUS you will get to meet Dirk himself before the game!
BUT THAT'S NOT ALL! You'll also get two hours of pro batting practice at Hits 400 to improve your odds of cracking the Home Run derby!
So, you're probably wondering, "how the heck do I enter this bad boy?" Easy! All you have to do is text "DIRK" to 71755 and you'll be automatically entered into the contest and our text club!
Contest ends Sunday, June 24, 2012 at 11:59pm. Contest Rules