A&M 50: The Anniverary Collection
Updated:
September 17, 2012, 1:02 AM ET
It's an archetypal story of the modern record business -- two guys with a dream running their nascent label out of a West Hollywood garage in the summer of 1962. The label quickly gains momentum and eventually becomes one of the most important record companies the world has ever seen.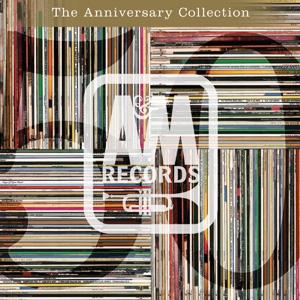 The two guys were
Herb Alpert
and
Jerry Moss
, the "A" and the "M" in
A&M Records
. By the way, it was Alpert's garage and that first hit was "The Lonely Bull," performed by
Herb Alpert & the Tijuana Brass
. And this year the two record men and UMe are celebrating the 50th Anniversary of their label.
As part of the celebration, on August 28, UMe is releasing A&M 50: THE ANNIVERSARY COLLECTION. A 60-track, 3-CD set curated by Alpert & Moss, THE ANNIVERSARY COLLECTION perfectly illustrates what a potent effect the legendary label is still having on contemporary popular music.
Herb and Jerry's dedication to development resulted in some of the biggest superstars in music ever: Joe Cocker, Procol Harum, Quincy Jones, Billy Preston, Cat Stevens, Carpenters, Peter Frampton, Supertramp, Jeffrey Osborne, Styx, Bryan Adams, Joe Jackson, the Police, Sting, Janet Jackson, Suzanne Vega, Sheryl Crow, Soundgarden, and so many, many more.
103.3 FM ESPN Insiders, click here to register to win A&M 50: The Anniverary Collection


If you're not already a 103.3 FM ESPN Insider, click here to sign up now. It's free and easy to join, and once you're an Insider, you're just one click away from every contest we have at 1033espn.com.
Contest ends Sept. 28, 2012 at 11:59pm. Contest Rules