Win Wired: A Season Inside the NBA
Updated:
November 12, 2012, 1:37 PM ET
"Wired: A Season Inside the NBA" gives fans an unprecedented behind-the-scenes look at an entire NBA season. The Blu-ray/DVD combo pack gives fans exclusive access to practices, locker rooms, road trips, planes and bus rides for every team in the NBA, including the Boston Celtics, Miami Heat, New York Knicks, and Los Angeles Lakers.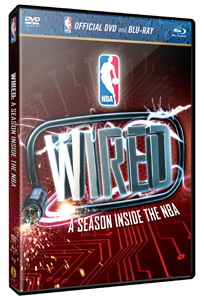 Produced by Bombo Sports & Entertainment, "Wired" lets fans see and hear the league's most celebrated superstars - ranging from LeBron James, Kevin Durant, Derrick Rose, Dwight Howard, Blake Griffin, Dirk Nowinski, Kevin Garnett, and Kobe Bryant - as they battle the ups and downs from training camp to the last game of the NBA Finals. Shot over the past three seasons, Wired takes fans inside training camp as each team prepares for the season and goes along for the ride as players hop from one city to the next while keeping focused on the next opponent. The access sheds a unique light on the human element of injuries, holidays, team bonding and the push to become a champion.
"We created 'Wired' to give access to the fans who love the NBA and thirst for more than the game. With a season that goes from November through May, we captured what it truly means to play in the NBA and the hard work that players and coaches put in on a daily basis to compete at the highest level," said Paul Doyle, executive producer for Bombo. "This film includes extensive use of the wireless microphones, on players, on coaches and always behind the scenes"
Wired: A Season Inside the NBA is the perfect gift for the hardcore basketball fan! This DVD/Blu-Ray® combo takes the viewer behind the scenes for an entire season, providing exclusive access to the practices, locker rooms, planes, and buses of every team. From tip-off on opening night to the celebration following the NBA Finals® victory, this documentary covers it all.
103.3 FM ESPN Insiders, click here to register to win Wired: A Season Inside the NBA


If you don't happen to win the contest, click here to purchase the DVD!
If you're not already a 103.3 FM ESPN Insider, click here to sign up now. It's free and easy to join, and once you're an Insider, you're just one click away from every contest we have at 1033espn.com.
Contest ends Nov. 23, 2012 at 11:59pm. Contest Rules