Win a copy of Lawless on DVD
Updated:
November 18, 2012, 3:26 PM ET
Lawless the true story of the infamous Bondurant Brothers: bootlegging siblings who made a run for the American Dream in Prohibition-era Virginia. In this epic gangster tale, inspired by true-life tales of author Matt Bondurant's family in his novel "The Wettest County In The World," the loyalty of three brothers is put to the test against the backdrop of the nation's most notorious crime wave.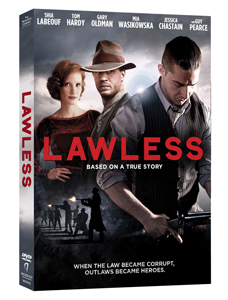 Director John Hillcoat and writer-musician Nick Cave made a brutal, brilliant splash with The Proposition, a revisionist Outback Western that quickly tore away any lingering notions of frontier romanticism. Lawless, the duo's take on another turbulent period of history -- namely, the bloodiest years of America's Prohibition -- eases up on the unrelenting grimness a bit, but the hard edges still shine through. Adapted from the historical novel The Wettest County in the World, by Matt Bondurant, Cave's script follows three Virginia brothers determined to continue their family's legacy of providing quality moonshine to their faithful customers (including members of local law enforcement) during the Great Depression. While the youngest brother (Shia LaBeouf) attempts to gain the business of a feared local mobster (Gary Oldman), the three find themselves under assault from a ruthless federal agent (Guy Pearce) with a sadistic agenda of his own.
Hillcoat, working with cinematographer Benoît Delhomme, delivers a fantastically realized period piece, one where the folksy, lived-in atmosphere is randomly dispelled by moments of shockingly raw savagery. Unfortunately, the attention to detail doesn't quite extend itself to LaBeouf's character, whose motivations and actions feel strangely half-baked throughout. Still, even if the main storyline occasionally falters, the film offers plenty to recommend itself, including Cave's ominously cheery score, small but vivid turns by Jessica Chastain and Mia Wasikowska, and the gloriously weird Pearce, who starts his performance somewhere in the outer stratosphere and just keeps heading upwards. The main draw of Lawless, however, ultimately comes from Tom Hardy, who goes all out and then some as the enforcer and reluctant father figure of the family.
Clad in incongruously mellow cardigans and mumbling like a cartoon sailor man, he's a Terminator for the ages. When it comes to his performance, White Lightning hardly covers it. -- Andrew Wright
103.3 FM ESPN Insiders, click here to register to win a copy of Lawless on DVD.


If you're not already a 103.3 FM ESPN Insider, click here to sign up now. It's free and easy to join, and once you're an Insider, you're just one click away from every contest we have at 1033espn.com.
Contest ends Dec. 16, 2012 at 11:59pm. Contest Rules