Win ESPN's 30 for 30 box set
Updated:
April 15, 2013, 1:22 PM ET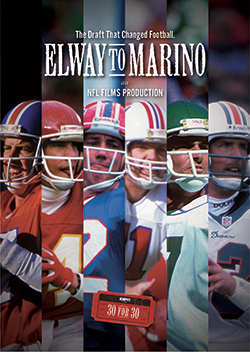 103.3 FM ESPN Insiders, click here to register to win a copy of ESPN's 30 for 30 box set.


If you're not already a 103.3 FM ESPN Insider, click here to sign up now. It's free and easy to join, and once you're an Insider, you're just one click away from every contest we have at 1033espn.com.
Then, tune in to ESPN at 7 p.m. on April 23 for the next edition of 30 for 30 "Elway to Marino."
"Elway to Marino" is an in-depth examination of the 1983 NFL draft that was highlighted by a record six quarterbacks being taken in the first round, including future Hall of Famers John Elway and Dan Marino.
Hear how the Cowboys almost made a trade to get Elway.
Click here to learn more about 30 for 30!
Contest ends April 23, 2013 at 11:59 p.m. Contest Rules