Win tickets to LPGA event
Updated:
April 15, 2013, 4:03 PM ET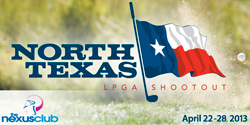 103.3 FM ESPN Insiders, click here to register to win tickets to the North Texas LPGA Shootout.


If you're not already a 103.3 FM ESPN Insider, click here to sign up now. It's free and easy to join, and once you're an Insider, you're just one click away from every contest we have at 1033espn.com.
Don't miss the North Texas LPGA Shootout on April 25-28 at Las Colinas Country Club. Tickets are available at Tom Thumb or online here.
For the first time in more than 20 years, the world's top LPGA golfers will be in North Texas. Join 95 of the top 100 LPGA golfers for the North Texas LPGA Shootout.
Contest ends April 19, 2013 at 11:59 p.m. Contest Rules