Win Depeche Mode tickets
Updated:
July 15, 2013, 12:38 PM ET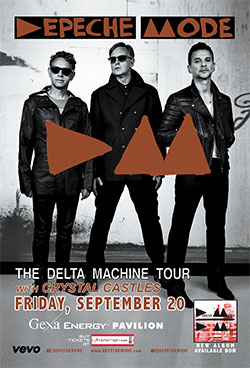 Register to win a pair of tickets to see Depeche Mode's Delta Machine Tour at Gexa Energy Pavilion on Friday, Sept. 20.
Tickets are also available through Ticketmaster.
103.3 FM ESPN Insiders, click here to register to win a free pair of Depeche Mode tickets from your friends here at ESPN Dallas.


If you're not already a 103.3 FM ESPN Insider, click here to sign up now. It's free and easy to join, and once you're an Insider, you're just one click away from every contest we have at 1033espn.com.
Contest ends Sept. 19, 2013 at 11:59 p.m. Contest Rules