The Herd at the Truck Yard in Dallas
Updated:
October 1, 2013, 2:56 PM ET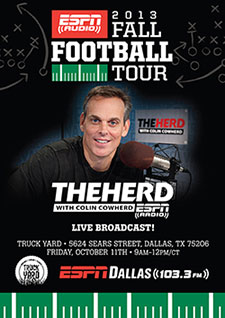 ESPN Radio's 2013 Fall Football Tour is coming to Dallas!
The Herd with Colin Cowherd will be broadcasting live from the Truck Yard on Friday, Oct. 11 from 9 a.m.-noon. Doors open at 8 a.m.
We will be previewing the Red River Rivalry game, so make sure to wear your Texas and OU gear!
Come start the tailgate a day early with The Herd and ESPN Dallas 103.3 FM!
Brought to you locally by Redd's Apple Ale.
What:The Herd with Colin Cowherd
Where: 5624 Sears St.
Dallas, TX 75206
When: Friday, Oct. 11 from 9 a.m.-noon