Win a copy of Moneyball
Updated:
January 6, 2012, 3:35 PM ET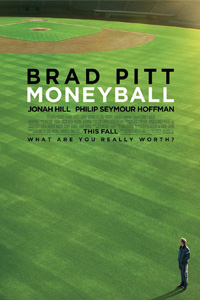 Moneyball is a 2011 biographical sports drama film directed by Bennett Miller and distributed by Columbia Pictures.
The film is based on Michael Lewis' 2003 book of the same name, an account of the Oakland Athletics baseball team's 2002 season and their general manager Billy Beane's attempts to assemble a competitive team.
In the film, Beane (Brad Pitt) and assistant GM Peter Brand (Jonah Hill), faced with the franchise's unfavorable financial situation, take a sophisticated sabermetric approach towards scouting and analyzing players, acquiring "submarine" pitcher Chad Bradford (Casey Bond) and former catcher Scott Hatteberg (Chris Pratt), and winning 20 consecutive games, an American League record.
Columbia Pictures bought the rights to Lewis' book in 2004. After a number of years in development, the film was featured at the 2011 Toronto International Film Festival and was released on September 23, 2011 to critical acclaim.
103.3 FM ESPN Insiders, click here to register to win a copy of Moneyball


If you're not already a 103.3 FM ESPN Insider, click here to sign up now. It's free and easy to join, and once you're an Insider, you're just one click away from every contest we have at 1033espn.com.
Contest ends Jan. 22, 2012 at 11:59pm. Contest Rules