Join Us For Jingle Ball 2009!
Updated:
December 8, 2009, 3:57 PM ET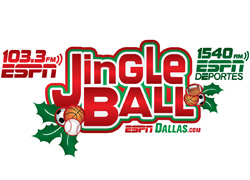 One of our
BIGGEST EVENTS OF THE YEAR
!
Jingle Ball 2009 is just around the corner! Come out and join us at Cape Buffalo in Addison on Wednesday, December 9th for this celeb-packed event benefiting the Dallas All Sports Association and the Ron Springs and Everson Walls Gift For Life Foundation!
Advance ticket sales are available through the American Airlines Center box office!
We'll be broadcasting live starting at 11:00am with the Michael Irvin Show, then Galloway & Company goes from 2:00pm-6:00pm! The party continues from 6:00pm - 10:00pm with live music from Live80 along with tons of additional entertainment! We will also have a silent auction where you can bid on some really cool sports and entertainment memorabilia.
For only a $20.00 cash donation, you'll meet local and national sports celebs plus enjoy live music and a DJ playing the classic hits from the 80's!
Great food & drink specials plus we'll be registering you to win various prizes throughout the day at Cape Buffalo!
TCU quarterback Andy Dalton will open the autograph table starting at 6:45 p.m.!
*Celebs & Athletes scheduled to appear:
Michael Irvin
Andy Dalton
Tony Casillas
Eugene Lockhart
Everson Walls
Patrick Crayton
Coach Joe
Tony Banks
Jesse Holley
Tommy Hunter
Pat Summerall
Derek Harper
Gerald Sensabaugh
Derek Holland
Rocket Ismail
Cliff Harris
Billy Joe Dupree
Michael Downs
Burton Gilliam
Josh Howard
Kevin Mathis
Erick Dampier
Martellus Bennett
Ian Kinsler
Bradie James
Nate Newton
Mike Curtis
Mike Renfro
Chris Davis
Craig Gentry
*List of celebs may change without notice. Celebs may or MAY NOT sign autographs. Autographs not guaranteed with admission.
Brought to you by:


















Cape Buffalo
17727 Addison Rd
Dallas, TX 75287
972.381.9796