No slowing Dallas White Rock Marathon
Updated:
December 3, 2011, 12:54 AM ET
By
Randy Jennings
| ESPNDallas.com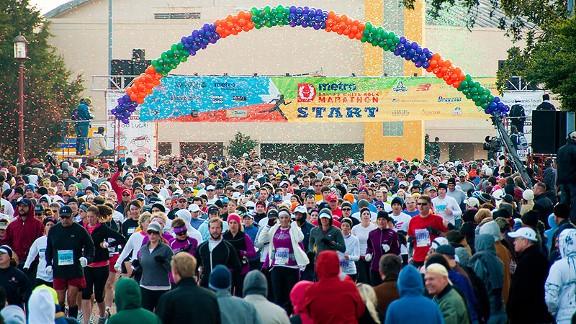 White Rock Marathon Backups marred the start of the Dallas White Rock Marathon last year, the first time the race began at Fair Park.
DALLAS -- In 1971, with little more fanfare than a local running enthusiast's $25 ad in a magazine, 82 participants took part in the first marathon around White Rock Lake in East Dallas.
Four decades later, how things have changed.
The 42nd edition of the MetroPCS Dallas White Rock Marathon on Sunday is expected to attract 25,000 participants for three simultaneous races: the relay marathon, the half-marathon and the feature event covering 26.2 miles.
42nd MetroPCS Dallas White Rock Marathon
When: Sunday
Start time: 8 a.m. for marathon, half-marathon, relay (7:55 a.m. start for wheelchair race)
Finish time: Finish line closes at 2:30 p.m.
Race headquarters: Fair Park, Dallas
Entry fee: $150 marathon, $110 half-marathon, $250 relay team

Timeline
1971: Tal Morrison, an avid runner, placed a $25 ad in Runner's World magazine in advance of the first Dallas White Rock Marathon. Total participants: 82 (61 finished).
1976: Two races were run to account for a date change.
1995: Separate relays were introduced for those who wanted to participate but didn't want to tackle the full course.
1997: The Texas Scottish Rite Hospital for Children became the primary beneficiary of the race.
2001: Start/finish area moved to Victory Park from downtown.
2003: A half-marathon was added, and Laura Miller, former Dallas mayor, created a 5K Fun Run and Walk after reading a magazine article that referred to Dallas as the fattest city in the nation.
2006: Record times were set for the women (Svetlana Ponomarenko, Russia, 2:29:55) and men (Moses Kororia, Kenya, 2:12:04).
2008: Larry Macon, a 63-year-old San Antonio attorney, broke the Guinness World Record for marathons run in a year (105) here.
2010: Start/finish area moved to Fair Park.
Phil Baker, Dallas White Rock Marathon board chairman, has seen participation expand by 250 percent in the past five years.
"We felt there was an opportunity to grow the race," Baker said Friday. "We've been able to attract more sponsors, which has allowed us to do more marketing and target the right audience. We've been fortunate, too, because running as a sport continues to grow."
Baker said the long-range view is that the event could conservatively handle 30,000, but he'll be paying close attention to the starting line this season.
Last year's race was the first to be headquartered at Fair Park. And with the new venue came problems. Because of a backup at the starting line, it took 55 minutes for all runners to begin the race, a delay Baker said was unacceptable.
The starting straightaway has been lengthened this year, the faster runners will be at the front and the hope is to have everybody on the course in 25 minutes.
Problems with bag drops on race day and parking charges at Fair Park for the events leading up to race day have been addressed, Baker said.
Growth of the race was a factor in the move from Victory Park to Fair Park in 2010. With family and friends of runners, the start of the race draws an estimated 75,000, more than Victory Park could handle.
With the addition of race sponsors and more runners, the DWRM has been able to substantially increase its donation to the race's charity, Texas Scottish Rite Hospital for Children.
The hospital, whose patients receive treatment regardless of the family's ability to pay, became the primary beneficiary of the DWRM in 1997. Since that time, the hospital has received $1.8 million from the race, including a check for $560,000 last year.
Baker said this year's goal is a donation of $1 million.
Cash prizes are awarded for the first five marathon finishers in the men's and women's divisions, with $5,000 going to the winner. Masters winners receive $500, and first Americans receive $500.
The 2010 winners were James Kirwa of Kenya in 2 hours, 18 minutes, 37 seconds and Camille Herron, the first American female winner in nine years, in 2:42:30. Kenyan men have a five-year winning streak in the race.
Record times were set in 2006, a 2:12:04 by Moses Kororia of Kenya for the men and 2:29:55 by Svetlana Ponomarenko of Russia for the women.
Sunday's race is the first leg of the Marathons of Texas. The Chevron Houston Marathon is set for Jan. 15 followed by the LIVESTRONG Austin Marathon on Feb. 19.
Randy Jennings covers running for ESPNDallas.com.