Commentary
Three stars master the art of scoring
Updated:
December 21, 2011, 9:47 AM ET
By
Rebecca Gray
| HoopGurlz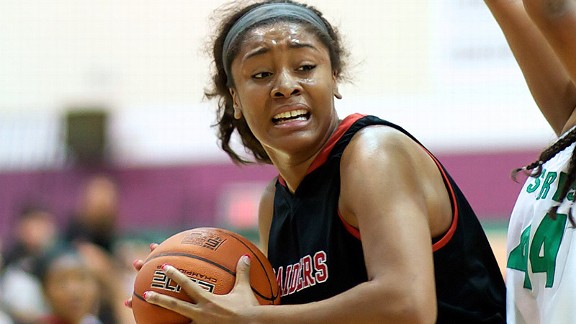 Glenn Nelson/ESPN.comMorgan Tuck of Bolingbrook (Ill.) scored 35 tough points in a 60-39 win over St. Mary's (Stockton, Calif.) on Tuesday.
CHANDLER, Ariz. -- There is nothing more entertaining in the game of basketball than watching a player who can score at will.
Breanna Stewart, the No.1 player in the ESPN HoopGurlz class of 2012, is one of those players. The 6-foot-3 Connecticut-bound forward makes her points in a variety of ways. Her 33-point performance in Cicero-North Syracuse's (Cicero, N.Y.) 48-28 win over Dr. Phillips (Orlando, Fla.) in the Joe Smith Invitational Division quarterfinals on Tuesday was one of complete dominance in the paint. She owned almost every offensive rebound that came off the glass and either finished with a put-back or got to the line for a pair of free throws.
But putting up big numbers is not necessarily something she sets out to do every game.
"I'm unselfish, and that's just how I play," Stewart said. "We just want to win and show everyone what we are made of. I do whatever I can so we can win."
Against Dr. Phillips, that included slashing through the paint and finishing with a finger roll, a step-back 3-pointer, and grabbing an offensive rebound while finishing with contact. All done in an unflustered manner.
But Stewart wasn't the only star to have a big scoring game on Tuesday.
Morgan Tuck of Bolingbrook (Ill.) and Alexis Jones of MacArthur (Irving, Texas) also had exceptional offensive performances.
Tuck, a 6-2 forward, played inspired in a 60-39 win over St. Mary's (Stockton, Calif.). She finished with 35 points, and she owned the lane from the beginning to the end. Her post moves were crisp and strong, and she often finished with two or three defenders hanging off of her.
"I felt like we took all of our anger out on St. Mary's," said Tuck, referring to the lingering distaste from Monday's 43-40 loss to Stewart's Cicero-North Syracuse. "Coach (Tony) Smith is always telling me that I need to own the paint, and I think my teammates put me in a great position to score, and it made it easier for me."
Jones, meanwhile, is one of the most entertaining players in this year's field. The 5-foot-9 point guard is remarkably quick and makes incredible plays without skipping a beat.
Using her athleticism and ball-handling, Jones put up 32 points in MacArthur's 72-62 win over No. 5 St. John's College (Washington, D.C.). Jones scored MacArthur's first eight points with two straight 3-pointers and then an easy layup, which was a result of a steal. She paced her team throughout much of the game and then scored her team's last five points, going 5 of 6 from the free throw line.
After MacArthur's first-round 56-50 loss to Windward (Los Angeles, Calif.) on Monday, Jones knew she had to pick her game up.
"I needed to be more aggressive in the paint," she said. "I also tried to get my teammates involved today, too."
Basketball is made up of so many components, but, in the end, it all comes down to the final score. These three players are some of the most talented athletes and best offensive threats in the country, and they can change the game with their tremendous scoring abilities.
Follow us on Twitter, where you can ask questions and get instant updates.
Become a fan of the site on Facebook and get updates in your news stream.
Discuss this on our Message Board.
Rebecca Gray is an intern for ESPN HoopGurlz. She previously wrote a column for the website about her experiences as a freshman on basketball scholarship at the University of North Carolina. She transferred to and played at Kentucky and now plays basketball and golf at Union College. A 5-foot-10, sharp-shooting guard out of Georgetown, Ky., Gray was named Miss Basketball in the state of Kentucky after averaging 25.6 points, 6.3 rebounds, 4.1 steals and 4.8 assists during her senior season at Scott County High School. She can be contacted at rebecca@hoopgurlz.com.
ESPNHS HoopGurlz
HoopGurlz intern
Played college basketball at North Carolina, Kentucky, Union College
Former Kentucky Miss Basketball, nationally ranked prospect
TOURNAMENT OF CHAMPIONS

The Nike Tournament of Champions, in Chandler, Ariz., provides a showcase for top young talent. Follow all the action here.
HoopGurlz Index
•
St. Mary's wins Smith title
•
Video: Highlights of St. Mary's win
•
Video: Riverdale Baptist coach injured
•
Stewart headlines All-Tournament team
•
Six stars shine under TOC's brightest lights
•
Photo gallery: Title games' lasting images
•
Day 4 scoreboard
•
Recaps from Thursday's finals
•
Smith final the stuff of dreams
•
Expect clashing styles in Anderson final
•
Fans confront Villa Maria coach, disrupt game
•
Five emerging talents from Day 3
•
Day 3 scoreboard
•
The bigger the better in Smith Division
•
Anderson favorites survive, advance to semis
•
Stewart, Tuck, Jones master art of scoring
•
Six standout performances on Day 2
•
Day 2 scoreboard
•
Video: Monday's Top 10 plays of the day
•
Mater Dei holds tight to crown
•
Cicero-North Syracuse stuns Bolingbrook
•
Team concept carries Brea Olinda, Villa Maria
•
Six stars shine on Day 1
•
Day 1 scoreboard
•
Picking the winners: HoopGurlz predictions
•
Stars align for No. 2 St. Mary's
•
Chris Hansen: Joe Smith Division analysis
•
Glenn Nelson: John Anderson Division analysis
•
St. Mary's stars play tour guides
•
Video: Meet Courtney Ekmark
•
2011 Nike TOC: Best field ever?
•
Sara Hattis hopes to lift Cleveland
•
10 stars to watch at Nike TOC
•
Buford's Dynamic Duo hoping for TOC heroics