Lunch with a Legend: Ricky Williams
Updated:
October 8, 2013, 4:49 PM ET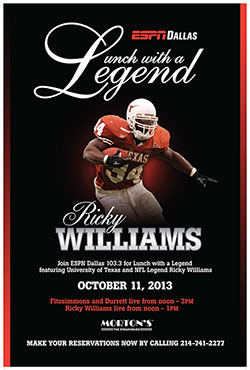 ESPN Dallas 103.3 FM and Morton's The Steakhouse present Lunch with a Legend featuring University of Texas and NFL legend Ricky Williams!
This Lunch with a Legend at Morton's The Steakhouse in Dallas on October 11 will kick off Texas-OU weekend.
Fitzsimmons and Friedo will be broadcasting live from Morton's from noon to 3 p.m. and Williams will kick off the show with them and be on the air until 1 p.m.
Seating is limited, so reserve your seat now by calling Morton's The Steakhouse on McKinney in Dallas at 214-741-2277.
What: Lunch with a Legend
Where: Morton's The Steakhouse
2222 McKinney Avenue
Dallas, TX 75201 -- 214.741.2277
When: October 11 from noon-3 p.m.
Sponsors: